On a similar theme, Social Hub is an attempt to pull together your various social networking apps in one place. It allows you to sync your Facebook, Twitter and MySpace contacts and calendars but, strangely, your contacts pics seems to get a bit squashed in the process. Also, it won't link your updates together like Motorola's Motoblur or Sony Ericsson's Timescape and you'll need to access each social networking app individually. Details like this matter, and it's only because so many aspects of this handset are great that elements like this just drag it back a little from the winner's podium.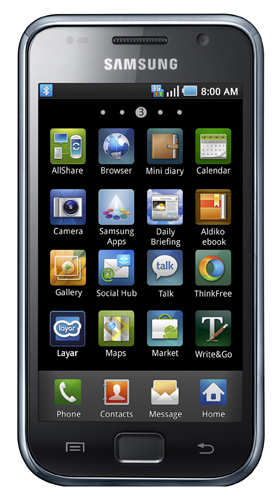 Social networking apps could link up more effectively
One new element on the Galaxy S is Samsung's adoption of Swype. It's a text entry technology designed by Cliff Kushler the co-inventor of T9 predictive text and Randy Marsden, the developer behind the Windows on-screen keyboard. The way it works is that you can type faster by dragging your fingers over the keys of the Qwerty keyboard, like 'joining the dots' with letters to make a word.
Swype works surprisingly well, though there's a little bit of a learning curve to train your finger to remain on the screen. You can capitalize letters by dragging your finger off the keyboard and insert double letters by tracing a small circle on them. It's really quite intuitive, easy, and yes, fast.
The browser is quick and efficient with high-speed Wi-Fi (b/g/n) access or HSDPA network access. It doesn't have full Flash, just Flash Lite, which will get you YouTube, but not BBC iPlayer, though this may be upgraded at a later date. E-mail is easy to set up and the onscreen keyboard works fine, due in no small part to the size and sensitivity of the screen.
For syncing with Windows it uses Samsung's Kies software, which is easy to set up and one of the more versatile and intuitive syncing packages I've come across. And while you're connected, the Galaxy S has tethering capability so you can link your laptop to the Internet using its 3G connection.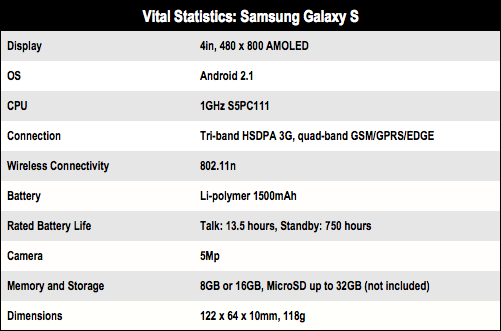 COMMENTS
What I would like to know is...
How does it compare to the HTC Desire, or other Android phones? Maybe a roundup of the leading Android phones would be in order for those of us who aren't willing to drink the Apple Kool-Aid*?
*Disclaimer: If you are a member of the Cult of Jobs and thinking of flaming me for daring to criticise, bear in mind that my wings are like a shield of steel, and also that I really have heard it all before.
Ha
"They don't release any updates"
"Yes they do, they release plenty of updates"
"Well then they obviously release too many updates."
Actually...
An early 2.2 release was released into the wild for the Galaxy S in the last 24 hours. Thats on top of the other 10 or so software updates that samsung have been working on since the phone was released.
Samsung are developing for this phone like crazy - IT WILL GET 2.2. Don't listen to the haters.
Easily fixed
@TomasF
Touch Wiz and Sense are both abominations (the former more so). First thing I did with my SGS was to install Launcher Pro and switch to the vanilla Froyo style. So much cleaner and more sophisticated. Actually works to Androids strengths too, unlike Touch Wiz which works against them.
Touch Wiz confuses the home screens with the more basic app menu on iPOS, so the default homescreen is at the far left. This doesn't suit many of the live wallpapers, and halves the number of homescreens available in one, two or three swipes. It's fine for a grid of app shortcuts, but homepages aren't used that way.
The bundled widgets are worthless so it's easy and painless to fix.
So the Social networking's a bit poo?
"...Details like this matter......elements like this just drag it back a little..."
So a score of 90% plus for those who actually have a life outside of FaceBeTwitSpace would be fair then?