Motorola Milestone XT720
First xenon flash Android camphone
Review Motorola's original Milestone, along with the Dext last year, proved to the world that Motorola was back, back, back after a period in the wilderness when it was struggling to keep up with the innovations of other manufacturers. Building on those phones' success, this Android 2.1 device has a distinctive new look and includes an 8Mp camera with HD video recording and a xenon flash.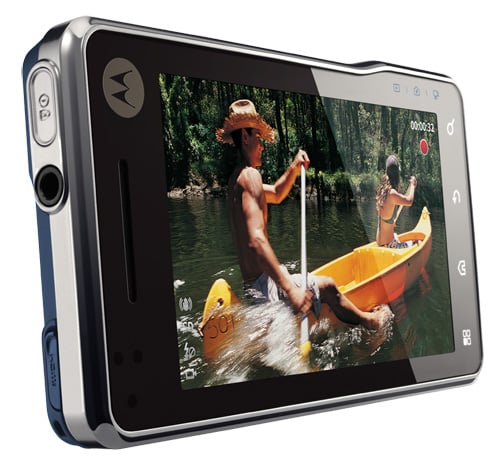 Photo finish: Motorola's Milestone XT720
At 116 x 61 x 11mm and 160g, the Milestone is a big phone, and a little out of shape. It has a distinctive bump at one end, which, at first glance, looks like it could have something to do with the camera lens – except that it's at the other end of the phone. It's actually more of a cosmetic feature intended to help the handset feel more like a camera when you're holding it horizontally. I suppose it does, but it's hardly an essential feature.
On the sides are a volume rocker and a micro USB power/sync slot with a large camera shutter button and dedicated media gallery button atop that bulge, which also includes three indicator lights: gallery, still camera and video camera. On top is a mini HDMI port for sending 720p video directly to your TV, as well as a 3.5mm headphone jack and recessed power button.
The 3.7in TFT touch screen offers 480 x 854-pixel resolution and generally looks lovely, though it does seem extremely prone to reflections – not a great phone when used in direct sunlight. Nice to see the screen's capacitive though, and it responded well to brushes and presses.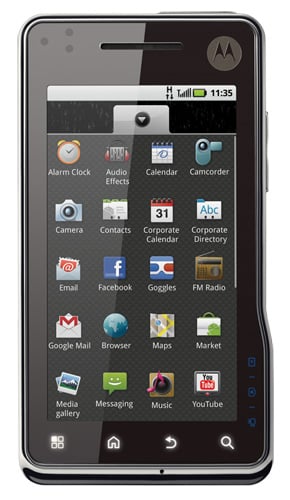 Runs Android 2.1 with some Motorola enhancements
The Android 2.1 OS receives minimal additional styling from Motorola, but very nice it is too. It has five home screens which you can populate with the usual shortcuts and widgets. There's no Motoblur to pull all your notifications together, though Google's drag-down notifications menu will do a similar if less stylish job of it and there are Facebook and Twitter widgets to keep you up to speed on a single home page.
COMMENTS
It's probably worth mentioning:
You make no mention of whether or not this variant of the Milestone sports the same signed bootchain as the regular Milestone, preventing users from using custom ROMs.
What you should have mentioned is Motorola's absolutely abysmal track record for getting Android updates to phones in a timely manner. Their flagship, the Verizon branded Droid still doesn't have 2.2, and they're deliberately dragging their feet over confirming if the nigh-identical Milestone will get it at all.
regarding battery life
It would have been a more useful review if you'd also had a go at installing Juicedefender and running it. Android power management is hopelessly tentative by default- every Android user that I know uses Juicedefender or something like it to tighten up the power management.
I know you shouldn't have to- but being pragmatic, this is one of the few major downsides of the otherwise splendid Android platform. Without it, my HTC Desire is out of steam before I am heading home, with it, I'm on 40% battery when it's time for sleep.
Neat toy...
...so we'll see them in Canada just after the US or the EU gets their first Android 3 phones.
*sigh*