Original URL: http://www.theregister.co.uk/2010/07/27/games_review_limbo/
Limbo
Left in the shade
Posted in Games, 27th July 2010 12:54 GMT
Free whitepaper – Hands on with Hyper-V 3.0 and virtual machine movement
Left, right, jump, push, pull. As far as mechanics go, they are some of gaming's oldest conventions. In its 2D salad days little else was needed to captivate players the world over. But then 2D almost did a Dodo around the mid-1990s, as developers migrated from the plane to the shiny new third co-ordinate.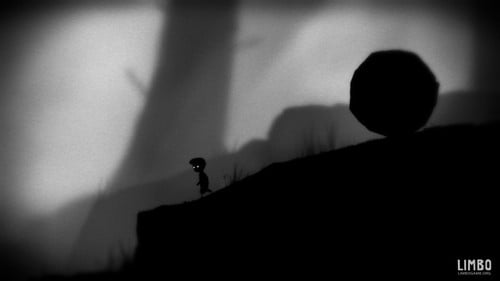 Rock and Roll
2D survived, thankfully - even flourishing on the handhelds. But despite continued success in beat-'em-ups and occasional side-scrolling classics like Castlevania: Symphony of the Night and Gradius V, it remained firmly on console gaming's endangered list, always struggling to convince gamers of its merits over the bells-and-whistles of 3D.
Over the past couple of years there's been something of a 2D revival. Titles like Shadow Complex and Braid have lured gamers back to the flat dimension with a maturing of gameplay and themes, HD visuals and, most importantly, budget price points.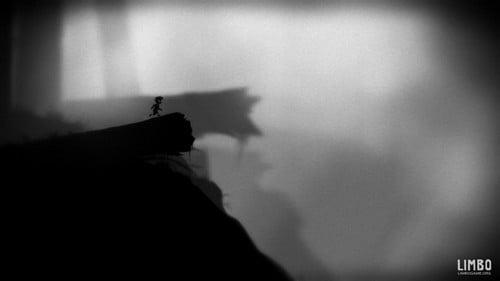 Get ready for the drop
The latest proof of this renaissance is Playdead's new puzzler, Limbo, the first title in Microsoft's 2010 Summer of Arcade line-up. Likely to win fans as much for its unique aesthetics and ambiance as for its mind-bending blend of traditional 2D conventions and real-world physics, Limbo is a near-perfect tiny epic – one whose greatest beauty is that you'll finish it as perplexed as when you started it.
---
A diminutive shadow boy walking through a monochrome world
Stylistically, Limbo is hauntingly beautiful Art House, favouring interpretation over lucidity. No story or explanation guides your journey. You're just a diminutive shadow boy walking through a foreboding, gloomy, monochrome world - silent but for occasional discordant orchestral notes and the ominous hum of far-off industrial machinery. It's a dangerous place where those age-old gaming conventions help navigate its pitfalls and puzzles. And where only curiosity and a vague hope of salvation compel your continued progress.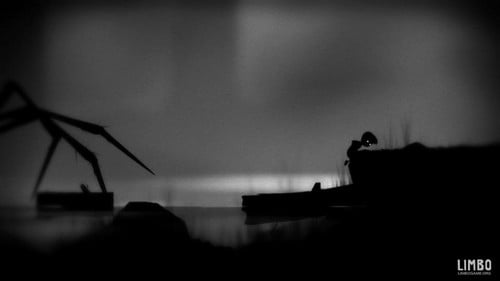 Banks can be helpful after all
Everything prevents your safe passage. Water is an ever-present danger for a shadow boy who can't swim, precipices for one who can't fly. Spiked pits and bear traps await mistimed jumps in the early forest level. And later, in the game's industrial setting, electrified floors, circular saws, machine presses and rapid-firing nails guns all kill in an instant.
But inanimate objects are Limbo's least unsettling hazards. Among the mist and pines of its forest lurk giant spiders, mind-controlling glowworms and - creepiest of all - a malevolent clan of eyeless shadow children, reminiscent of Lord of the Flies' biguns, who lure you on towards their mortal traps.
Its ability to disturb is not limited to hazards alone. The squelching and oozing as you pull the last leg from a dying spider might churn a stomach or two, but it's nowhere near as harrowing as the sight of another shadow boy wading calmly into a pool of water, bowing down his head and drowning himself.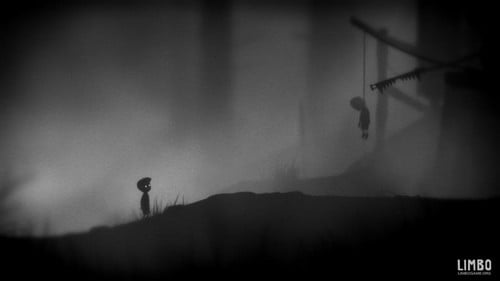 Hanging out with the shadows
Each of your own shadow boy's deaths is, like the suicidal boy's, exquisitely animated and disturbingly silent. All too resigned to his fate, he doesn't so much as whimper as inky blood spurts from his dismembered remains, or as the light of his eyes flickers and fades from his pulverised body.
---
Limbo's forsaken world...
Death is not dwelt upon in Limbo's forsaken world. A black screen is all that greets your every demise, and you're soon back where you left off. Another age-old gaming convention, it quickly breeds apathy towards your shadow boy, which is perhaps intentional given the existential bleakness of his world and the trial-and-error nature of its many puzzles.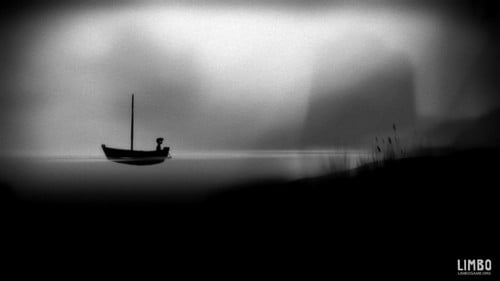 Push the boat out
It's easy to forget Limbo's substance is puzzle game, so outstanding is its style. Fortunately, the variety and intelligence of puzzles constantly impresses, even though few rarely tax. Starting off with conventional leaping, pushing and pulling, the game slowly introduces more complex physics-based puzzling, where gravity, magnetism, friction and clockwork motion are mixed in various measures to create interesting and novel combinations.
If there is one criticism of Limbo it's that the game is completed in around five hours. Even considering the £10 price, it feels a tad short, especially since it probably won't see more than one replay through to collect all its achievements.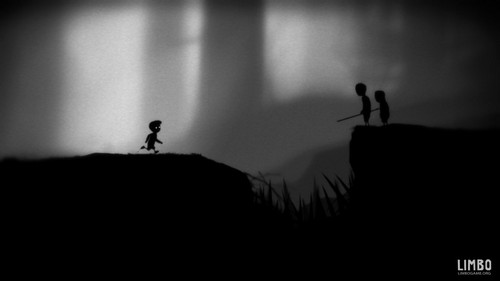 We stand divided
Verdict
It's easy to see why Limbo will reinvigorate the 'are games art?' debate. Just like art, the less a game reveals itself, the more enigmatic and open to interpretation it becomes. Limbo's taciturnity does just that, inviting players and critics to debate its complex influences, which range from European Trikfilm to Dadaism, and to ponder its palpable nihilism and subtle metaphysical undertones.
Of course, if you're an old cynic like me, you'll probably just spend the five hours enjoying a well-constructed puzzler lacquered with a beautiful, but ultimately meaningless veneer. ®
More Games Reviews

Blacklight:
Tango Down [1]
Crackdown
2 [2]
Sniper:
Ghost Warrior [3]
Demon's
Souls [4]