iPad alert: Are you a selfish elite or an independent geek?
Apple fondle slab wars are go!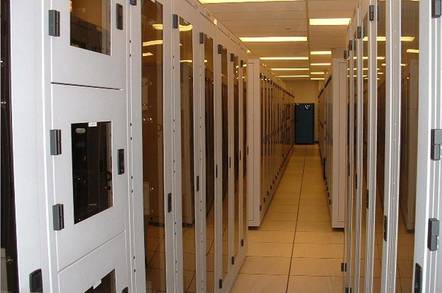 Thus spoke a 'selfish elite' earlier today: "I think I'm kinder than the survey suggests. Tough love, largely."
Apple iPad owners tick all the obvious boxes when it comes to the kind of crowd Cupertino has happily been wooing with its fondle slab since launch in March this year.
They're six times more likely to be "wealthy, highly educated and sophisticated. They value power and achievement much more than others. They're also selfish, scoring low on measures of kindness and altruism." This is according to a survey carried out by consumer research outfit MyType.
The jury's out on whether these same individuals typically hang out in jeans, sneeeeakers and a polo neck shirt, however.
MyType published the results earlier this month, which subsequently got sucked up by Wired magazine before landing on the El Reg get a life(style) desk this afternoon.
The consumer researchers go on to point out that there are two combative camps in the great iPad debate of 2010. The aforementioned types who already lovingly caress the Jobsian beast have been labelled "selfish elites".
On the other side of that lively electronic fence sit critics - AKA "independent geeks" - of the device.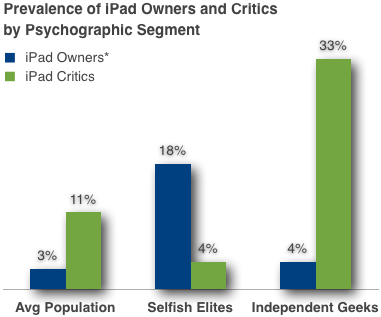 Graphy thing, courtesy of MyType
"They prize self-direction, shun conformity, and are interested in video games, computers, electronics, science and the internet," noted MyType.
"One of the strongest single indicators of being an iPad Critic is a preference for the Linux (a do-it-yourself operating system for super geeks) over Windows or Macintosh."
The 20,000 people-strong study, conducted between March and May this year, also found that Mac users were more likely to deride the iPad compared with Windows fans. But that's because the PC population at large isn't all that geeky, concluded MyType.
"If at this point you're imagining the classic young male geek, your stereotyped imagination is right. iPad Critics do tend to be young men. To add even more colour: they tend to have no children and little interest in family."
Of course, the survey also reveals a shift in how the consumers in general, and geeks in particular, now perceive Apple products.
The iPad is a lifestyle product that to the average geek has very little to offer. Or, as MyType puts it:
"These guys (and some gals) are known for their strong desire to be in control of their gadgets, compelling them to learn code and tinker with hardware.
"They're impressed by technology breakthroughs and advances in speed, storage, and other quantitative qualities. They love to be on the edge of technology, experiencing these advances firsthand."
But they can't really do that with the iPad because it entered the mainstream consumer market without lending itself first to the gadget tinkerers.
The iPad is oozing sex appeal, concluded MyType, and independent geeks can't deal with that hotness.
On the other hand, iPad's selfish elites seem to take an unfortunate cue from gaffe-prone ex-pres George W Bush, who once said:
"This is an impressive crowd: the Haves and Have-mores. Some people call you the elites. I call you my base." Yikes.
Meanwhile, not all the Reg hacks at Vulture Central have properly fondled an iPad yet. So what does that make us? ®
Sponsored: Minds Mastering Machines - Call for papers now open