Lite-on iHBS112 internal Blu-ray writer
Cheap and fast - cheerful too?
On the other hand, Blu-ray is an excellent movie authoring and video backup medium. Writing smaller numbers of very large files was a comparatively swift process after the experience above. As any HD camcorder enthusiast can attest, DVDs tend to fill up much too quickly.
The iHBS112 will, of course, also write to DVD-R (16x), DVD+RW (8x), CD-R (48x) and CD-RW (24x), along with a wide range of other writable and rewritable disc standards. It reads BD-ROM discs at 8x.
In addition to the CyberLink software features, Lite-On has tweaked its firmware to improve performance in a couple of areas. A technology called SmartWrite manages the stream of data being recorded, apparently preventing underruns even when you are using your computer for other tasks. Just the same, I recommend not running tasks that hog your resources, such as saving, printing or otherwise processing huge files.
Another technology built into the unit, SmartX, manages the data stream in the opposite direction, adjusting the spin appropriately as you read data from the disc. This apparently makes the drive quieter in operation. The iHBS112 is a quiet drive, that much I can report.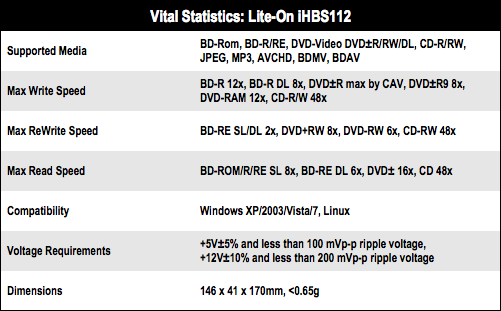 Sponsored: Minds Mastering Machines - Call for papers now open