Lite-on iHBS112 internal Blu-ray writer
Cheap and fast - cheerful too?
One special feature that I was unable to put to the test was the unit's claimed support for 3D movie playback in conjunction with a 3D HD TV. Lite-On also says the drive can convert 2D content to 3D on the fly.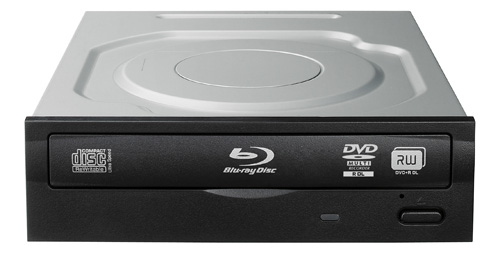 3D compatible, apparently
A notable black mark on the iHBS112's otherwise faultless performance was the troublesome installation of CyberLink's BD Solution suite. The installation of Power2Go was interrupted by the message: 'Error! The product definitation [sic] file lost'. Lost to whom, I wonder. The PowerDirector installer just went bananas, launching itself over and over again until I had 20 of the little buggers running simultaneously but not actually appearing to install anything. Just to complete the annoyance, the improperly installed programs then refused to be uninstalled.
I solved the matter by ditching program remnants, cleaning the Registry as best I could and then installing Blu-ray compatible CyberLink applications afresh from my own copy of the Media Suite installer. That's no help to the average buyer, though, and I am a bit concerned because I've experienced a similar problem with a CyberLink installer once before.
A slightly more advanced version of the iHBS112, the iHBS212, supports LightScribe disc label etching and costs £136.
Verdict
Lite-On's joint venture with Philips continues to pay dividends as far as hardware buyers are concerned. The iHBS112 is a fast, quiet and seemingly reliable BD/DVD/CD burner that is relatively inexpensive to buy and quick to fit. I just wish the bundled software had been as easy to install. ®
More Internal Blu-Ray Drive Reviews...

Samsung
SH-BO83L


PLDS iHES208
BD-Rom combo

Pioneer BDR-203BK
Blu-ray writer

LG BE06-LU10
Blu-ray writer


Sponsored: Minds Mastering Machines - Call for papers now open

Lite-on iHBS112 internal Blu-ray writer
Read and burn CDs, DVDs and Blu-ray discs cheaply.