Lite-on iHBS112 internal Blu-ray writer
Cheap and fast - cheerful too?
Review Lite-On is certainly pushing the boundaries of optical disc burning at aggressive prices. The iHBS112 is an internal drive that goes beyond the combo by letting you read and write Blu-ray, DVD and CD media in one unit. Its Blu-ray writing speed, 12x, matches the current fastest on the market.
That's not bad for £123.
As a standard Sata drive, the hardware is simple to install, and it worked right away as a data reader and media player under Windows 7 without requiring additional drivers.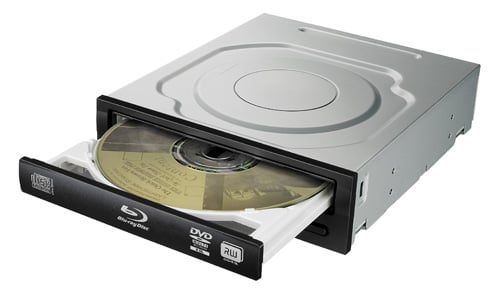 Lite-On's iHBS112: matches the fastest on the market
For burning your own discs, Lite-On supplies a copy of CyberLink's BD Solutions on a DVD-ROM. This software suite includes BD-enabled editions of PowerDVD (movie playback), PowerProducer (movie disc authoring), PowerDirector (movie editing) and Power2Go (data disc burning), along with a couple of disc utilities: PowerBackup and LabelPrint.
Looking at the numbers, the ability to burn BD-Rs ought to be as big a removable storage revolution today as the appearance of affordable DVD-R drives and media was some ten years ago. After all, the iHBS112 makes it possible to write to single-layer, 25GB BD-R media at 12x speed and dual-layer, 50GB discs at 8x.
Now, given all the scare stories you have been reading recently about the real-world longevity of optical discs, do you really want to consign even more data to them, in 50GB chunks? And bear in mind that although Blu-ray raw data transfer speeds are nominally faster than those of DVD, filling a 25GB or 50GB disc is going to take an awfully long time.
This is especially true for large quantities of very small files. I formatted a single-layer BD-R for use with Windows 7's Live File System - which enables ad hoc writing of files, leaving the disc session open - and then dragged a 5.1GB folder containing 23,094 files onto it. The initial copy completion estimate was seven minutes but this was shortly revised to one hour. When I returned to the computer an hour later, the estimate had risen to 13 more hours.
When I finally removed the disc, it was hot to the touch. Ouch.
Sponsored: Minds Mastering Machines - Call for papers now open