Samsung UE46C8000 3D TV
Picture perfect?
I even liked the way that Samsung has presented its Internet@TV online services, with an attractive graphical interface that provides easy access to web sites such as YouTube, FaceBook and Google Maps.
The company gets a slap on the wrist for highlighting the BBC iPlayer on its web site, as that particular service isn't available yet, but I was very pleased to be able to watch films online using my LoveFilm subscription (even if the streaming video wasn't great quality).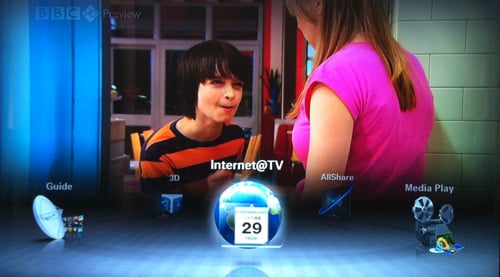 Menu browsing
Happiness levels went sky high when I also discovered that you can timeshift and record – even in HD – onto a USB hard disk (though it spat out my memory stick, declaring that it didn't provide adequate performance for video recording).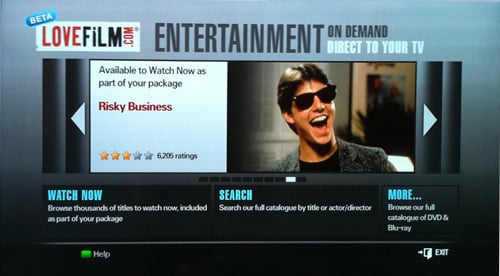 Lovefilm is available, although the streaming quality leaves room for improvement
The 20W speakers produce a nice, detailed sound, and are loud enough for day-to-day use when watching television. However, they're a little thin on bass so home cinema buffs might want to supplement them with something that can do justice to Hollywood soundtracks.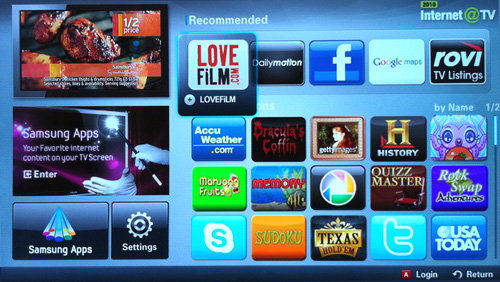 On-line options
At this point I'd have been happy to just sit back and wallow in the C8000's lush 2D performance, but the tantalizing '3D' button on the remote control just wouldn't be ignored. Sadly, the C8000 doesn't include any 3D glasses – although we were supplied with one pair for testing purposes – so if you want to venture into the third dimension you'll have to cough up about £150 extra for Samsung's 3D Starter Kit, which includes two pairs of glasses and a copy of Monsters Vs Aliens on 3D Blu-ray.