NASA unveils global Martian map
Odyssey view offers plenty of detail, but no roadsigns
NASA has unveiled "the most accurate global Martian map ever" - a 21,000 image mosaic from the Thermal Emission Imaging System (THEMIS) aboard its Mars Odyssey spacecraft.
According to the agency, the snaps have been "smoothed, matched, blended and cartographically controlled" to produce the final result, which at full zoom dishes up details as small as 100 meters.
Philip Christensen, principal investigator for THEMIS and director of the Mars Space Flight Facility, explained: "We've tied the images to the cartographic control grid provided by the U.S. Geological Survey, which also modeled the THEMIS camera's optics. This approach lets us remove all instrument distortion, so features on the ground are correctly located to within a few pixels and provide the best global map of Mars to date."
He added: "The broad purpose underlying all these sites is to make Mars exploration easy and engaging for everyone. We are trying to create a user-friendly interface between the public and NASA's Planetary Data System, which does a terrific job of collecting, validating and archiving data."
Well, the view is impressive, as this image of the Valles Marineris shows: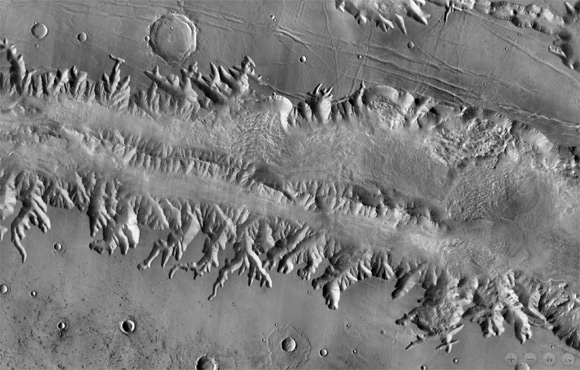 However, there's no way of telling exactly where you are on the Martian surface, which makes exploration more of a random wander than a guided tour. A latitude and longitude reference would help.
Those of you with a working Red Planet GPS, "large bandwidth, powerful computers and software capable of handling images in the gigabyte range" can download the full-fat map in sections here.
NASA has more here. ®
Sponsored: Minds Mastering Machines - Call for papers now open