The Sun saves parasailing donkey's ass
Flying days over, red top assures
There's some top quality news today for the animal lovers among you: the Sun has moved with lightning speed to save the Sea of Azov's very own flying donkey, Anapka, who recently found herself on the wrong end of an asinine promotional stunt:
The Telegraph reports that the beast is none the worse for her ordeal, with a vet having declared her "clinically healthy". The paper does, though, note her mental state remains "unclear".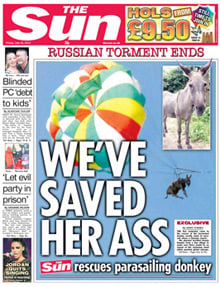 What is clear, though, is that Anapka's flying days are over. The Sun's print edition - complete with a splendid front page headline - assures readers that "she will never be forced to parasail again", and as we speak is being fed "apples, cucumbers and sweetcorn" by the red top's Russian representative Anna Shlyakhtenko.
Anapka's owner, meanwhile, told the authorities he didn't see anything amiss in obliging his animal to take to the skies because witnesses "were having fun".
The powers that be will decide today whether to open an animal cruelty case against him and/or the businessmen who thought it a right laugh to promote their beach with an airborne ass. ®
Sponsored: RAID: End of an era?