Compared to the previous models the E-PL1 loses the Levelling feature and the built-in mic is now mono, rather than stereo. Top shutter speed is 1/2,000 second instead of 1/4,000 second and the fastest ISO setting is 3200 instead of 6400. The screen has also been reduced to 2.7in from the 3in of the E-P1/2 models, which is a bit of a disappointment.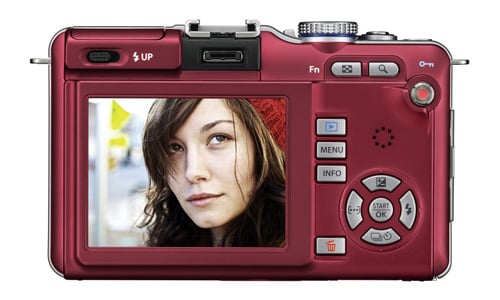 The only real gripe is this PEN's screen is smaller at 2.7in.
The resolution is an average 230,000 dots but the LCD screen is quite bright and has a very wide viewing angle. In truth this new PEN should be considered more like a sophisticated compact camera with interchangeable lenses than a DSLR alternative. It offers more creative control than a point-and-shoot but not the flexibility of a DSLR. The optical viewfinder – a detachable accessory that slots into the hotshoe and included with the E-P2 kit – is extra.
The menu layout is simple and intuitive for the most part. You can access all the options in the menu via the four-way pad but the E-PL1 also offers what Olympus calls the Super Control Panel. This function groups together all the key settings in a grid on the LCD screen, that you can navigate to directly.
Another innovative addition to this latest PEN is the Live Guide mode. When the camera is in iAuto mode you can activate Live Guide by pressing the Start/OK button. This will bring on the display six icons, which, replacing photographic terms with results-based names, allow you to change key camera settings according to the outcome you want to get.
The options are Colour Saturation, Colour Image, Brightness, Blur Background, Express Motions and Shooting Tips. It is an ingenious way to make the usual program mode work in a more creative and personal way, letting anyone take better pictures without necessarily having to understand the principles of photography.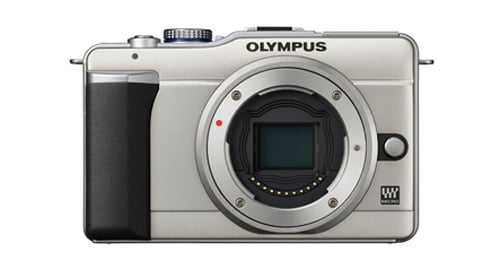 The 12.3Mp Micro Four-Thirds sensor is the same across the range
Despite its cheaper price tag the E-PL1 sports the same excellent 12.3Mp Live MOS sensor and the 324-point ESP metering system of the previous PENs and also retains their very effective Image Stabilisation system and Supersonic Wave Filter that protects the sensor from dust particles. Other features inherited from the previous models are: four different aspect ratio options (4:3; 3:2; 16:9 and 6:6), Face Detection with the ability to handle up to 8 different faces, Red-eye fix, two custom setting modes and the iEnhance mode that automatically boosts the dominant colour in a scene, i.e. reds in a sunset.
COMMENTS
Bad layout
Having 6 pages of photos in between the 1st and last section of the article is dumb.
Having the specs of the camera on page <random> instead of page 1 or 2 is dumb.
Having a 9 page article with no section descriptions to help me jump to the section I want ... is dumb.
Nice camera. :-)
It was all going so well...
...until I got to iEnhance mode. I have promised myself never to possess anything that starts with a lower case 'i'.
OK...
For shooting people indoors the kit lens is a bit pants, but as you can change the lens then this is not necessarily a problem. Bear in mind though that this is not a 'proper' DSLR, so if you are used to shooting with APS-C or full frame digitals then you may be disappointed. However if you are used to typical compacts (like I was) then this camera will be a revelation. However for shooting indoors get a faster lens - the panasonic 20mm F1.7 pancake (equiv to 40mm on a film SLR) is great but may be too wide for you. Unfortunately there is not much else out there in fast native micro 4/3 lenses, but with an adaptor you can fit 4/3 lenses,and if you dont mind manual aperture/focus only then you can fit almost any SLR/DSLR lens - again with a suitable adaptor. This is great if you already have a (D)SLR lens collection.
Re: How good are these things?
I replaced my Nikon D70 with a Pana GF-1 micro 4/3 with a F1.7 pancake lens, a decision driven by portability and movie support.
Great for lowish light indoor portrait shooting. The limitations are more outdoors in bright light - the screen washes out, so you really need the electronic viewfinder which adds bulk and cost. Otherwise, the main disadvantage is that if I wanted a fast zoom which handles HD video, I'd apparently need need to spend £650+ on the "lumix g vario hd" lens.
Sensor Sizes
Tiny compact sensors can't do everything something like a micro 4/3 sensor can do, and those sensors can't do what something like an APS-C sensor can do, which can't in turn do what a full frame sensor can do and so on to the biggest sensor you can buy.
Most people who know digital photography know this, however Olympus' advertising assumes that the reader doesn't know this. Just like they used to claim the Trip 35 could do everything an SLR could do. And that's what I have against these cameras. It's not that they are bad cameras, far from it I'd rather use one than something like a Canon G11, it's that they are being sold as something they are not. Nobody sells their entry level DSLR as being just as good as their top of the range full frame model so why do the makers of this micro 4/3 stuff sell it as if it will produce results as good as an S2 or a 'blad? Maybe Olympus do it because their attempts at a DSLR have been so lame.
BITD nobody was really fooled by the Trip 35 advertising or the Pentax 110 SLR, but it seems from what I see online people are fooled by the current Olympus advertising.