Olympus PEN E-PL1 Micro Four-Thirds camera
Superb
Since the release of the E-P2 Olympus has greatly improved the contrast-detection Autofocus performance, with the E-PL1 taking full advantage of this, being a much faster shooter than most compacts, although not nifty as a DSLR. In addition to Single Autofocus, Continuous Autofocus, Autofocus Tracking and Manual Autofocus the E-LP1 also has two simultaneous focusing options that work really well: Single AF + MF and Continuous Autofocus + Tracking. In manual focus the zoom button activates the enlarged display function, which allows for very accurate focusing by providing up to 14x magnification of the selected focus area.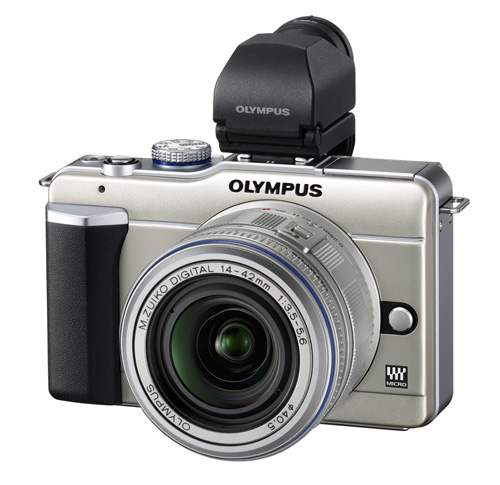 Optical viewfinder attachment is an optional extra
The E-PL1 delivers the same great quality images of its predecessors, with well-calibrated exposures, rich colours and accurate handling of difficult lighting. Dynamic range is also very good, even in high contrast scenes. Noise control is really impressive for a camera at this level, delivering crisp images from ISO 200, its lowest speed, all the way to ISO 800. From ISO 1250 images start to be less smooth but even at the highest setting (ISO 3200) the noise levels are totally acceptable and certainly better than any compact alternative.
Olympus offers two ways to further reduce noise. There is a four-level noise reduction system that can be switched on or off and also a noise filter with three different settings (Low, Standard and High). While the noise reduction system works pretty well without over smoothing the details, the noise filters seems to have a stronger effect, even at the lowest setting, which results in some detail loss.
The E- PL1 inherits five of the Art Filters of the E-P2 (Pop Art, Soft Focus, Grainy Film, Pin Hole, Diorama) and the Multiple Exposure feature, whilst adding a brand new Gentle Sepia effect. What makes these effects really great is that they are applied before taking the shot, so you can preview the final outcome. I'm quite partial to Olympus's Art Filters as they produce artistic but realistic results that don't look shamefully amateurish.
The Art Filters can be applied in movie mode but some of them reduce the frame rate to such an extent that the movies become jerky almost as a frame-by-frame film. The other drawback is that some of them take a very long time to process. The E-PL1 also have good in-camera editing options including a range of other editing operations such as trimming, resizing, saturation, shadow adjustment and Black & White conversion.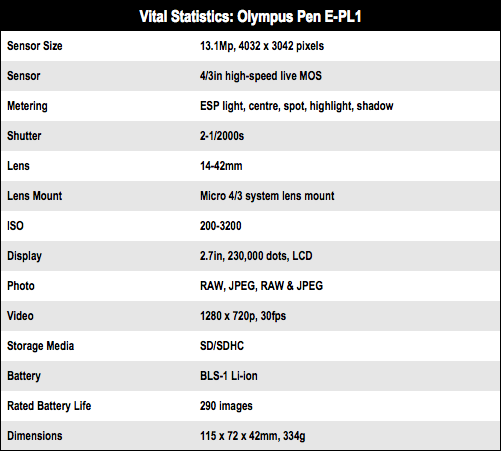 Sponsored: Minds Mastering Machines - Call for papers now open