Possibly the world's most pointless review
The Sumo Lounge Sway Couple Beanbag Chair
Each week we receive dozens of link-to-article requests from tech websites. Much as we want to oblige, we rarely have time to read the articles, let alone link to them.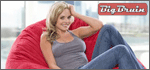 We make an exception for this, from BigBruin.com and its review of the Sumo Lounge Sway Couple Beanbag Chair.
Four pages, unboxing pics, a texture fetish...and cats, all life is here.
<snip>
I chose the Cozy Corduroy in "Raspberry Red" and I can attest to the cozy, warm fuzziness of the fabric. I am, what my husband calls, "texture girl" and the corduroy cover was even softer than I imagined. The cover zips on and off so it is easy to remove for spot cleaning and pet hair came off readily enough with one of those velvet lint/hair brushes. The microsuede version is also machine washable. We have three large fuzzy cats so let me tell you that the ease of cleaning fabrics is a big deal in our house.
</snip>
Sweet. And a bargain at $299.
Is this the world's most pointless review, or can you do better?
The challenge is on.
Bootnote
Yes, we reviewed a chair once. Can't remember why, though.
Also reviewing chairs can lead to war, as illustrated by this eruption, in full flow at time of writing.
Sponsored: Minds Mastering Machines - Call for papers now open