Blacklight: Tango Down
Shoot, is that all you got?
Multiplayer vs Campaign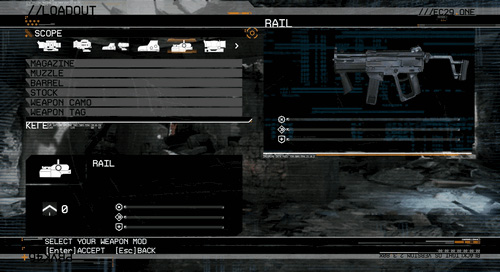 Menu's guns, no hairdryers here
It's clear campaign mode is an afterthought to its multiplayer offering. The Hyper Reality Visor (HRV), which temporarily highlights enemies and supplies through entire buildings, serves little purpose on the campaign's strict linear path, as enemy encampments can't be circumvented. But employed along the multiple paths of multiplayer, the HRV can be exploited to flank or ambush enemies.
And the Digi grenade, meant to obscure enemy sight with its pixelated digital cloud, is redundant in campaign mode, where you can't see into or through it to pick off enemies. But drop one near a node in Domination or next to a canister in the CTF-style Retrieval, and they provide perfect cover.
Multiplayer maps are further proof of Tango Down's core focus. While lacking the types of open, expansive areas seen in some of Call of Duty's or Battlefield Bad Company's maps, the tight maps offer decent variety at fast pace, and provide for varied tactics, from defensive strongholds to hit and run engagements. And the seven different modes are, if highly familiar to veteran fraggers, all worth playing.
Multiplayer presents some problems. The matchmaking system might be superior to one or two big budget titles, but lobby wait times can be inexplicably long. And without dedicated servers, if a host quits in-game, there's a lengthy wait to migrate to another host, which often leads to a domino effect, as more and more players bug out.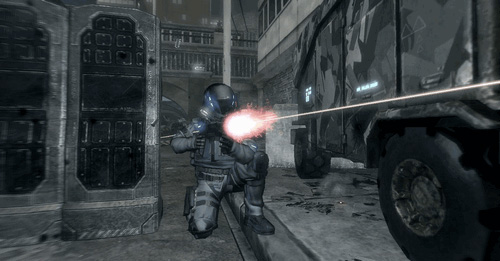 Down on the knee, I'm ready to shoot!
Verdict
If you're looking for a decent single player or co-op campaign then you're best off avoiding Tango Down, even at the low price point.
Luckily, Tango Down's core offering is its multiplayer. And here it exceeds expectations of a budget title. If you've got serious battle fatigue from MW2 or BFBC2 then at £10 Tango Down is excellent value for a title that should see at least a couple of weeks' play.
But while there's bound to be a healthy number of players over the quiet summer months ahead, expect most players to switch back to the Triple-A big guns long before the arrival of COD Black Ops in November.
More Games Reviews

Crackdown
2
Sniper:
Ghost Warrior
Demon's
Souls
Transformers:
War for Cybertron
Sponsored: Minds Mastering Machines - Call for papers now open

Blacklight: Tango Down
A budget shooter that doesn't quite live up to its big budget ambitions. Available on Windows Live and Xbox Live (tested)