What's the difference between an iPod and an iPood?
One letter, says Apple
The iPood, a small spade used by Aussie campers to bury their shit, has a new name following an intervention by Apple lawyers.
In a letter to the iPood makers, Apple's legal eagles said: "iPood is clearly similar to Apple's iPod, there being merely a single letter difference."
That could have been worded better, don't you think?
"For obvious reasons," the letter continues," Apple's reputation for clean design and high-tech electronics will suffer should it be associated with latrines and the like through Sea to Summit's use of iPood."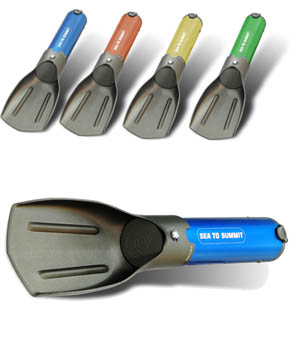 iPood is to be renamed the Pocket Trowel by the manufacturer, a Perth outdoor adventure equipment supplier called Sea to Summit.
The company registered iPood as a trademark in Australia in 2006, after "identifying a hole in the market". We are not making this up.
It is sturdy and alumnium and ethically sound. And it has, or had, a great name.
We are sure that the publicity surrounding the name change will help sales. It also shows that lawyers don't always have to be attack dogs to get the results their clients require.
Link WA Today [Hat tip to Ian.]
COMMENTS
so...
Do you have to hold it in a certain way in order to make it work properly? Just wondering.
Blanket trademark?
I always thought that you register a trademark in a specific market (eg consumer electronics), which means that it can happily coexist with products with the same name in a different market (eg fecal waste management ;).
Based on that interpretation, I'd say that apple has no legal basis for demanding this name change, so most likely they shoveled a lot of money to this company to get them to change their name voluntary.
Baseless legal threats
There is absolutely no way this could be trademark infringement, unless Apple's "iPod" mark also covers the "shit shovelling" industry,
Oh, wait...
lol
The difference between a trowel and an iPod? 1 letter says Apple's lawyers.
Well goody that'll save me £200.
Contempt
I do get sick of big companies using the threat of an expensive frivolous lawsuit to bully the little guys. Surely the blatant use of the civil courts in this way (even just waving about the threat of frivolous action) should be considered contempt of the country's court systems and open to criminal prosecution of the bullies and their lawyers by the state under the appropriate criminal laws dealing with such.