Apple ad-addled OS scheme resurfaces
(Marginally) less draconian
Steve Jobs & Co have renewed their interest in developing an operating system that can disable "one or more functions" of your Mac while an ad is being played.
"Jobs; Steven; (Palo Alto, CA)" is the first-listed inventor in a filing published Thursday by the US Patent and Trademark Office. The application, "Advertisement in Operating System", is a "continuation", in patent-speak, of a filing of the same name that The Reg told you about when it was published late last year.
The differences between the two filings are subtle. Both contain plenty of references to the ability of the operating system to disable those aforementioned "one or more functions" while an advertisement is being presented.
Both also mention the option of a user choosing to schedule advertisements — presumably to endure one's quota of required digital pitches at a time less stressful than five minutes before a deadline.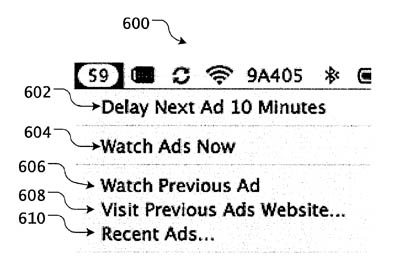 We'll bet you never imagined seeing "Delay Next Ad 10 Minutes" in a OS's drop-down menu
The newer of the two filings, however, removes two particularly intrusive sentences that describe capabilities designed to ensure that the ad-presentation function isn't tampered with. "Disabling the function can cause the device to not respond to an input device," and "Disabling the function can cause an application program to cease generating output."
We'll call that emendation a welcome improvement.
Both filings explain the rationale for advertisements identically. "The presentation of the advertisement(s) can be made as part of an approach where the user obtains a good or service, such as the operating system, for free or at reduced cost."
Apple has taken the same approach to advertising being a support for free applications in its iOS 4–based iAd system. When Steve Jobs detailed the iAd mobile advertising platform during his keynote address at this year's Worldwide Developer Conference, he was accompanied by a slide explaining the purpose of iAd: "To help our developers earn money so they continue to create free and low-cost apps."
But iAd is app-based — iOS 4 does not disable "one or more functions" of your iPhone, iPod touch, or iPad (this fall) while an iAd advertisement is being presented. The "Advertisement in Operating System" filings, as their names state, are aimed at the entire operating system, not the apps running on it.
When Apple offers a major upgrade to Mac OS X, it has typically charged $129. (The current version, 10.6.x — aka Snow Leopard — is an anomaly, being mostly an under-the-hood refinement rather than a major upgrade, and costing only $29). Perhaps when Mac OS X 10.7 appears, you'll have the option of receiving it free of charge if you consent to watching a few ads. ®
Sponsored: Minds Mastering Machines - Call for papers now open