Tablet buffs sift HP site for traces of lost Slate
Post mortem remains - or sign of revival?
Claims that HP may have killed of its Windows 7-based 9in tablet, the Slate 500, may have been wrong.
PCWorld is lauding the device's apparent return to the HP website. It has found half a dozen entries for the machine - listed as the 500-1001tu, 500-1002tu, 500-1003tu, 500-1004tu, 500-1005tu and the 500-1006tu - in HP's e-catalogue.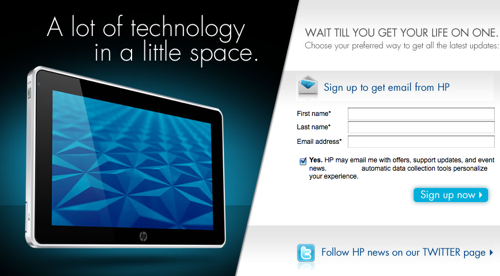 HP's website, today
The mag found the references in a Google cache of the page, though the page itself exists and is easy to access.
The links from it to the six Slate SKUs reveal what seems to be boilerplate copy for the device, touting its 8.9in screen, Windows 7 Premium OS, HP media presentation software and two cameras: one for photography, one for video chats.
All of which, the mag suggests, is a sign that the machine is a runner once more.
Except, of course, there's no evidence it ever went away. It was assumed it might when HP acquired Palm, and the company's attempt to register the term 'PalmPad' as a trademark suggests that its sees its purchase - Palm's WebOS, essentially - as the basis for future iPad-style offerings.
But while its was speculated that this would mark the demise of the Slate 500, HP certainly never admitted as much, and its various other Slate 500-related website pages - from 'keep me informed' offers to blog posts - never went away.
Now, that's not evidence that the Slate 500 is still on, either - and neither is the PCWorld discovery. That page shows products associated with a mouse - not a peripheral you expect to use with a tablet - and also lists hundreds of PCs, many of them long since obsolete, such as Windows XP-based home boxes.
Clearly this is not a list HP updates regularly, and the Slate references may just be placeholders that the company forgot to remove. ®
Sponsored: Minds Mastering Machines - Call for papers now open