James Bond's autogyro revived by Brit spec-ops pilots
Whirly-wing 1930s protocopter 'ideal' for covert ops
Enter the autogyro - goes slower, costs less
Enter the autogyro, whose rotor disc simply spins freely rather than being powered. The autogyro is propelled by an ordinary engine turning a propellor as in a normal aeroplane.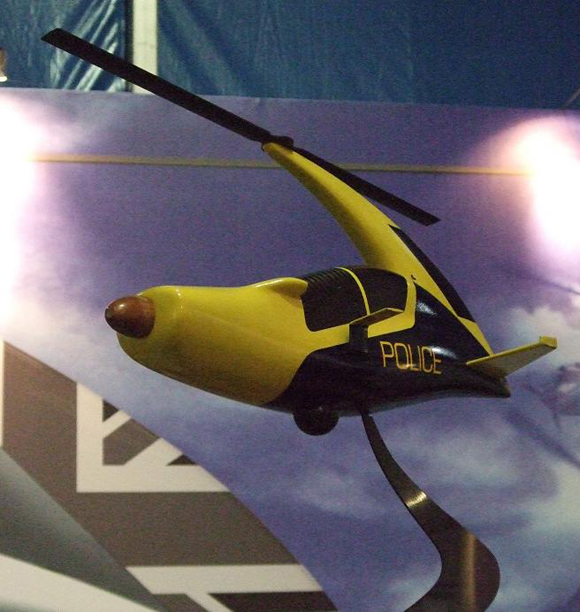 Coming to a council estate or warzone near you from 2012?
As a result the autogyro can't normally lift off vertically like a chopper, though it needs only a very short takeoff run. Nor can it hover in midair, unless strong headwinds are blowing: but it can go much slower than a plane without stalling - 25 knots as opposed to 50.
Gyrojet founder Barry Jones is an autogyro enthusiast, having attempted to fly one round the world for charity in 2004 while still in the Army Air Corps. The expedition was stymied when monsoon floods submerged the aircraft during a stop in India, but apparently Jones' extensive experience at the controls of an autogyro convinced him it was an ideal craft for covert surveillance.
Thus Gyrojet, formed last year, is working to produce its Scorpion S3 design. This is a two-seat aircraft "designed around the surveillance operator", according to Robb. The company's experienced surveillance pilots believe it would be ideal for use by police forces or others in the manned surveillance game, being able to do the same job as a helicopter for one-quarter the cost and one-fifth the carbon emissions.
In certain respects, Robb says, the Scorpion would actually be better than a pricey helicopter. Vibration is less, meaning easier use of imaging scopes, and the autogyro can be landed more easily in dusty environments (for instance Afghanistan) as its unpowered rotor produces no downwash and hence no deadly dust cloud to blind the pilot and mess up the engine.
The S3 also boasts a fully retractable undercarriage, not a feature normally seen on slow-speed aircraft and choppers which aren't generally designed with surveillance in mind. This can lead, according to Robb, to "fat wheel syndrome": as the aircraft turns or the target moves, the turret-mounted tracking scope beneath the aircraft is obscured by the undercarriage. This can mean the video no longer presents an unbroken chain of evidence suitable for subsequent use in court, or even worse the target can be lost altogether.
According to S3 programme director David Beddows, the S-3 design has now completed wind tunnel testing "with no surprises". The first flight is on track for 2011, and he anticipates production aircraft deliveries from 2012.
Initially the S3 will be powered by a single Lycoming piston petrol engine, but Gyrojet has plans to adopt a trendy aero turbodiesel for better fuel economy in future. Some urban areas likely to be of interest to customers have rules against single-engined aircraft flying above them, owing to worries about a forced landing: Gyrojet plan to offer a backup battery-powered emergency landing option to deal with this.
While the S3 is designed specifically for covert surveillance, Robb says this is only the most difficult of the tasks it can do. The company believes it would also be good for overt, UK mainland police style sky-eye work, all kinds of civil survey tasks, and shorter-ranging air taxi work for the more economy-minded biz exec.
Gyrojet, unusually these days, have no plans to develop an unmanned version.
"We're all about manned," says Robb.
That may not be a bad business strategy, at least for a while. The Army Air Corps' old colleagues of 14 Int are nowadays known as the Special Reconnaissance Regiment, and are believed to be operational alongside (or ahead of) the SAS, SBS and US special forces in Afghanistan.
Coalition forces engaged in surveillance work above the Wars on Stuff are sometimes sufficiently hard-up for bandwidth that transmitting full-motion video down from an unmanned spycraft is a serious burden. This has led to so-called "manned unmanned" initiatives in which surveillance specialists are sent up in suitably adapted civil aircraft in Northern Ireland style: the Army Air Corps has lately bought Beechcraft King Airs for this purpose, for instance. Gyrojet's Scorpion, with its dust-landing and short-field benefits, might easily find a receptive audience among such customers.
Similarly, the S3 might well appeal in the case of UK police forces, likely to be too cash-strapped to keep running all their helicopters following current government spending drives: but not allowed to deploy cheap unmanned aircraft in UK civil airspace for legal reasons.
All that said, Robb admits that no firm sales have yet been made. But it seems at least possible that the autogyro, mostly absent from the skies since the advent of the true helicopter, may be about to make a return. ®
Sponsored: Minds Mastering Machines - Call for papers now open