IT bods: Cloud won't turn us into dinosaurs
Base jumping into data centres. Mind how you go, now...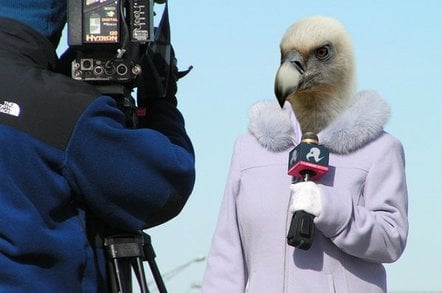 Cloud computing won't lead to IT workers giving up the day job, according to a new survey.
CWJobs found that 40 per cent of 1,300 IT bods expected to see more jobs becoming available thanks to the arrival of cloud computing, which has garnered interest among UK company bosses over the past year.
However, plenty of IT professionals are concerned about what cloud computing could mean for job security with more than a quarter (28 per cent) of those surveyed worried that their future might well be doomed by the data centre.
At the same time, 70 per cent of respondents agreed that possessing skills and experience in cloud computing would make them more employable. Presuming that is that their job isn't easily automated by said cloud.
Young 20-something sysadmins were more enthusiastic about all things cloudy. CWJobs said that 65 per cent believed the latest IT industry fad would generate more jobs. But tech workers in their 40s were more reticent about cloud computing, with just 28 per cent agreeing that it could heat up the UK technology job pool.
The survey unsurprisingly produced some confusion among respondents who are still getting their knickers in a twist over what cloud computing actually means.
Around half of those surveyed thought that cloud computing would require specialist skills. Conversely, 75 per cent of respondents said they needed to gain new skills and experience to get to grips with the technology.
"It is encouraging to see that IT professionals recognise the career opportunities emerging from the rise of cloud computing. However, confusion evidently surrounds how candidates can best bolster their CVs for these opportunities," noted CWJobs' website director Richard Nott.
"While it is not yet clear which specific skills will be useful for cloud computing, the majority of IT professionals do believe there will be a need to adapt to capitalise on the changing IT landscape and that now is the time to do this." ®
Sponsored: Minds Mastering Machines - Call for papers now open