Atrato's adventuresome challenges
Sales VP resigns as channel changes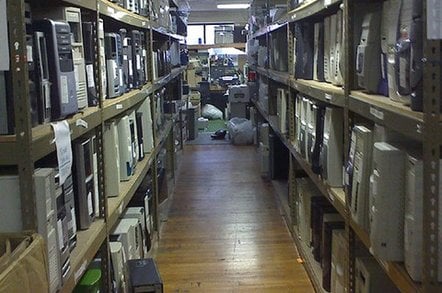 Vulture Central is hearing that Atrato is effectively up for sale, that there is no cash to fund the payroll, and that Jeff Edwards, the VP of Sales has resigned. We heard a couple of weeks ago also that five more people were let go taking the headcount to less than 20. CEO Steve Visconti added a lot of colour to this bleak picture, making it less bleak.
As a quick background note Atrato makes and sells Velocity arrays using sealed drive enclosures filled with lots of 2.5-inch drive spindles and featuring a software suite
Steve Visconti said:
The current investor syndicate is strong and very much backing Atrato. Approximately 18 months ago we made a decision to invest heavily in software as we realised the industry, including ODMs (Original Design Manufacturers) were developing higher performance JBOD (arrays featuring Just a Bunch Of Disks) and EBODS (Expansion Bumch Of Disks), and Intel was developing multi-processor, multi-core systems that offer Atrato the unique advantage to scale up or scale down systems to meet market demand.

Given Atrato's open system platform controller with our software suite, Atrato Virtualization Software, ApplicationSmart and Atrato Unified Driver data transformation architecture, Atrato is now in a strong position to expand our reach into the market. Atrato has the competitive advantage of price / performance both in mid-market and high performance market. After all doesn't make sense that applications such as Oracle, SQL, Data Mining, MS Exchange, et cetera, all need best-in-class performance for mid-size customers as well as very high end enterprise?

This range of performance-based products is unique to Atrato. Look for announcements in the coming weeks which will give you more clarity on this. Further, Atrato is leveraging the portability of our software for potential large enterprise OEM opportunities as well as strategic ISVs.

With respect to Jeff Edwards, he did in fact resign as VP of Sales. Jeff is a terrific individual who contributed a lot to Atrato and will be missed. He cited personal family reasons for his departure. Having said that, Atrato is making a dramatic shift from direct end user sales to OEM, ISV and System Integrator channels. Our personnel has shifted and will continue to shift to reflect our multi-year market strategy.

As far as Atrato [being up] for sale, you and your readers know all boards of directors have a responsibility to protect shareholder value and manage the risk. We will ensure a balance between shareholder value and risk. Large offer? Sure we are open to it. Small offer, probably not.
It's not as bleak a picture according to Steve as some are painting it. Times are very hard and the firm is struggling to push its way forward. Let's wish it and its employees good luck. ®
Sponsored: Minds Mastering Machines - Call for papers now open