VMware juggernaut rolls on and on
Q2 sales up 48%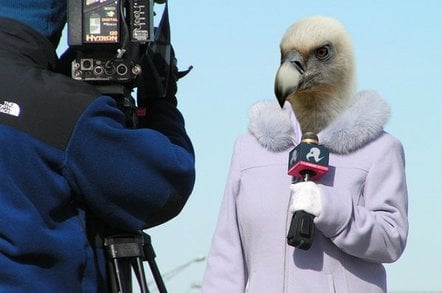 Server virtualization juggernaut VMware gets to keep its title.
In its second quarter ended in June, the company pushed sales up 47.9 per cent, to $673.9m, and despite some heavy research, development, sales, and marketing costs, its net income hit $74.5m. That's a 2.3 per cent profit increase.
If Microsoft wasn't giving its Hyper-V software away for free and there were no cheap open source alternatives to VMware's ESX Server hypervisor and vSphere stack for making it do all kinds of server virtualization tricks, it is safe to say that VMware would be bringing a lot more dough to the bottom line. But in this universe, Microsoft, Citrix Systems, and Red Hat are tough competitors, limiting how much profit VMware can extract from its hypervisor in its many guises.
This ain't 2005, when VMware had no credible competition and 25 per cent of revenues could drip down as black ink – or even 2008, when 15 per cent could. VMware's Q2 profits translate to about 11 per cent revenues, and it's hard to imagine any other company, while facing such competition, could have done any better.
During the second quarter, VMware's license revenues rose by 42 per cent, to $323.7m, while services revenues rose by 53.8 per cent, to $350.2m. Within services, software maintenance revenues were up 53.7 per cent, to $290.4m, while professional services sales increased by 54.5 per cent, to $59.8m. The increase was driven largely by the recent SpringSource, Gemstone, and RabbitMQ acquisitions that VMware has made.
Mark Peek, VMware's chief financial officer, said in a call with Wall Street analysts that the enterprise license agreements that VMware started in early 2007 were starting to bear fruit in the quarter. The original ELAs, primarily with large enterprises in the United States with some in Europe and Asia, included license fees and multiple years of maintenance.
As customers are renewing these ELAs, they are adding more VMware products, upgrading existing products they have installed, and renewing maintenance contracts such that the new ELAs are generally larger than the original ones three years ago. This is what is helping to push revenues at VMware.
So is the expansion of VMware's server virtualization tools down into small and medium businesses. The Essentials and Essentials Plus entry bundles announced last summer with the vSphere 4.0 stack drove what Peek called "strong demand" among SMBs and record vSphere transactions. VMware kept good control on discounting among its large enterprises, and even with the widening of its market with the Essentials bundles (which have crimped features but relatively low prices compared to other vSphere SKUs), the average vSphere selling price only dropped by $100 a pop compared to initial ASPs a year ago.
As El Reg previously reported, with the new vSphere 4.1 release, the Essentials bundle gets to keep a special low-price sticker that was tested in March and Essentials Plus bundles will now get the much-wanted VMotion live migration feature that it had been missing but also a slight price hike to cover the cost of that feature. But now a lot of companies might forgo using vSphere Standard or Advanced Editions, which cost a lot more dough.
VMware, having watched SMB businesses drive Q2, is betting that it can make it up in volume even as companies opt for Essentials or Essentials Plus over Standard or Advanced. With so many competitors trying to eat its lunch, VMware has no other choice but to add features and drop price, no matter how much they might want to sugar coat it.
VMware exited the quarter with $1.5bn in deferred revenues, up 58 per cent compared to the year-ago quarter, and with $2.8bn in cash and equivalents in the bank. The company doesn't have a lot of worries, except maybe that the European economies could head south again and that server shipments could shrink after surging in 2010.
Peek said in the call that sales in Europe were strong, but Germany and the United Kingdom showed some softness. VMware's revenues in Q2 from the United States came to $334m, up 43 per cent, and were driven by strong adoption of the el cheapo Essentials and Essentials Plus vSphere packages. VMware is all excited by SMBs because when they virtualize, they go from zero to 100 and don't pussyfoot around like the kingdoms and fiefdoms inside of large enterprises.
They are also, as Microsoft's success with Windows Server shows, unlikely to change systems software once they make their choices and can live with it. Or run out of cash to buy an alternative. VMware's international sales hit $340m, up 53 per cent. Sales in Latin America were up like a Saturn V on a hot July day in 1969, rising 85 per cent.
Peek said that in the first half of 2010, physical server market saw revenues climb around 20 percent, and VMware (or rather the analysts whose data it looks at) expect sales to moderate in the second half of the year. The early predictions for 2011 are for a decline "somewhat significantly" in the physical server market, according to Peek, who did not elaborate further except to say that VMware software sales were less dependent on new physical server sales than many might expect.
VMware ended the quarter with 8,200 employees, up 1,100 people from the beginning of 2010, with about half of the new people coming from acquisitions. Peek said that VMware expected to organically add employees at about the same rate, or about 550 people, in the second half.
Given the caveats of a strengthening US dollar, renewed concerns about the macroeconomic situation in Europe, price changes with vSphere 4.1 entry products, and uncertainty at Uncle Sam for its IT spending in the current fiscal year, VMware expects for revenues to grow between 39 and 44 per cent in the third quarter, to $680m to $705m. For the full 2010 year, VMware expects revenues to grow 35 to 38 per cent, to between $2.725bn and $2.8bn. Net income guidance was not provided, since this is a lot harder to peg. ®