Sense has other advantages, like the quick way to see thumbnail versions of all the home screens so you can hop between them easily. It's more than just a good way of finding your way between apps. The Twitter app, called Peep, and Sense's e-mail app are both highly effective and simple to use. The virtual onscreen keyboard is the best in class. The e-mail app is especially versatile, letting you display mail by sender, importance and more. Friend Stream gathers your social networking connections together (Facebook, Twitter and Flickr) so your updates are all in one place.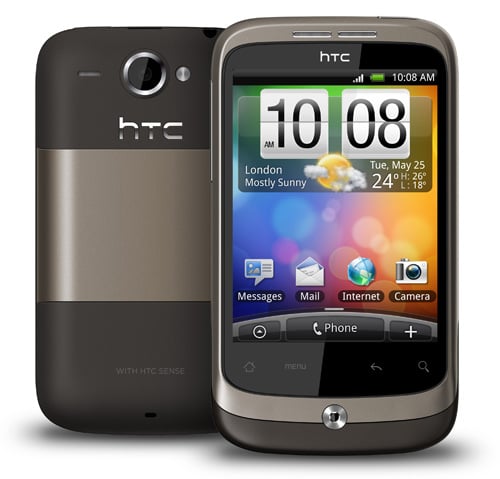 Build quality is up to usual standards
The new addition that came with the Wildfire is an onscreen widget, called App Sharing. Since Android doesn't have the Genius recommendations feature that comes with iTunes, it can be hard to know what apps to download from the 50,000+ available. Especially since, there's no vetting of apps as there is with Apple – whatever you think of that decision.
With App Sharing you click on an app and choose whether to tell everyone about it using e-mail, text message, tweet or Friend Stream. The recipient(s) will get a link, which lets them download the app. It's a simple and effective way to spread the word. Sense isn't perfect, mind. Although the Wildfire has Android 2.1, it takes time to update Sense to the next version, so don't expect Android 2.2 just yet. A vanilla Android phone without the Sense overlay could theoretically be updated sooner.
And Sense doesn't have the fully integrated speech-to-text functions some Android phones have that enable you to speak your destination in Google Maps and let the phone do everything else for you. This isn't a big problem though, as there's a free speech-to-text download available on the Android Market.
There's also no sign of the funky animated wallpapers which Android has made its own, although the truth is they drain the battery like nobody's business and HTC's default background colours are sweet enough. Of course you can add your own background using the 5Mp camera, which I found to be absolutely usable with the usual cameraphone provisions: shutter lag in low light and average rather than outstanding results.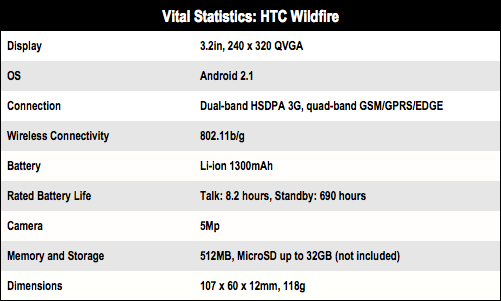 COMMENTS
But what about RF Power Control?
Does it have fingertip RF power control like the iPhone4?
Mine's the one with the missing bars.
Off topic?
"With every app you install you have to agree to give access to network, system, and other weird stuff you did not even know was in the phone like you should be aware as to the potential 'dangers' that accepting that would be..."
And personally, I'm glad it does.
I agree it could be streamlined, but the approach is a good one from a personal security view.
"Plenty of applications are available only when paying"
Damn those developers with mouths to feed!
And, as far as I'm aware, the Apple app store has similarly chargable apps? No?
Personally, I've found very little utility apps that didn't have a free alternative. Regardless, you can get any payments fully refunded within 24 hours - I've found it ridiculously easy to try the paid-for apps and then get them refunded.
"Oh and IPv6 is still not fully working for mobile operators"
Huh?
Re: It's cheap and a nice entry level droid
"want a half decent virtual keyboard?"
Get on the Swype beta.
"Plenty of applications are available only when paying"
As opposed to Apple's app store, where everything is free?
resistive = inferior?
Why must a resistive touchscreen be inferior? Having handled both types, and using an n900 with resistive touchscreen every day, I'd say each has it advantages. Yes, I have to touch the screen a bit more (though not *that* much), but as a bonus, I can use whatever I want to touch the screen, so for example I can make drawings or write things down with a stylus.
In this review, the fact that it only has a 320x240 screen is declared to be not so bad, but I'd rather have a hi-res resistive screen than a low-res capacitive. 320x240 were the norm 7 years ago. This is 2010... Hello?
App store vs marketplace
I agree marketplace is quite poor in some respects (e.g. level of spam, lack of policing, lack of recommendations), but your points are not very valid.
a) Favourite apps - there are usually analogous apps and it's clear that more apps are appearing by the day. e.g. Nook and Kindle just appeared for Android the other day.
b) Install Warnings - apps access certain features so why don't you want to know what features they use. At least you get told up front what features the app is using. Personally I'd like Android to allow me to set a default and a per app policy which allows me to veto certain actions, e.g. dial numbers, access certain websites etc.
c) Micropayments - big deal. Don't use those apps. The great thing about marketplace is apps are completely free to determine their own payment models - free, ad supported, trialware, shareware, subscription etc. If you don't like apps using one model don't use them.
d) sshd, terminal, keyboard etc. Again I don't see the objection here. There are free versions of these apps even if some people choose to charge for them. Furthermore you should be rejoicing that Android lets you add these things. If you don't like the default keyboard you can just replace it with another. That's a mark of a well designed OS.
d) IPv6. Android is capable of it, though I doubt many network providers do.
Your verdict is invalid. Android is a more than capable device and certain devices such as HTC's are extremely pleasant and friendly to use. I think the stock OS still has some rough edges that individual phone manufacturers shouldn't have to be fixing but there are still more than enough reasons to favour a decent Android phone over the iPhone.