IBM preps Power7 iron for August launch
Four bitty boxes and one enormous revenue engine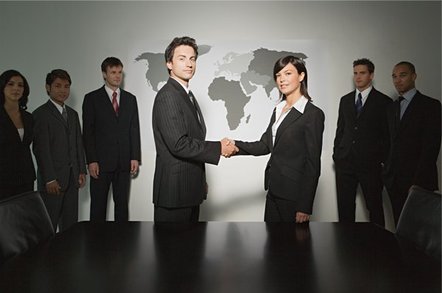 With its hardware revenues taking hits since last fall because of impending server launches across its various lines, IBM has been pulling out the stops to move up announcements. Not only is the System zEnterprise 196 mainframe (formerly known as z11) being pulled forward to a July 22 launch, but now the entry and high-end Power7 machines are getting kicked out the door earlier than expected.
Based on declining mainframe and Power Systems sales, one might say they should have already been on the market. IBM's mainframe sales were down 19, 39, 26, and 27 percent in quarters one through four of 2009, respectively. With everyone knowing new mainframes were due in 2010, it was not at all surprising that sales continued to fall in 2010, down 17 per cent in the first quarter of this year, and as we learned yesterday when IBM reported its financial results for the second quarter, mainframe sales fell 24 per cent against a ridiculously easy compare.
IBM's Power Systems lineup has done better, but is still not making good numbers. In the first quarter of 2009, which was more or less the bottom of the economic meltdown, Power Systems sales were off 2 per cent. Not too bad, and a lot better than the 19 per cent decline in mainframe sales IBM had and 27 per cent decline in System x and BladeCenter sales in the quarter. In the second quarter of 2009, however, the high-end of the Power Systems lineup, the Power 595 using a 5 GHz Power6 chip, was looking a bit long in the tooth.
Customers knew Power7 boxes were coming in 2010, and they either started putting off buying or negotiated hard on price to get last year's model. In the third quarter of 2009, Power Systems sales were off 10 per cent again, and in the final quarter, as many AIX and i shops were expecting announcements from IBM in April or May, Power Systems sales slumped 14 per cent. The Power Systems products were off 17 per cent in the first quarter and continued with a 10 per cent slide in the second quarter just ended in June.
The Power Systems machines currently sold by Big Blue are based on Power6, Power6+, and now Power7 processors and running mostly AIX with a smattering of the proprietary OS/400 operating system, called i these days, and a touch of Linux. IBM launched midrange Power 750 and enterprise Power 770 and 780 servers using the eight-core Power7 chip in February and Power7 blade servers in April.
Those midrange and blade systems using Power7 chips helped prop up the Power Systems division in the second quarter. Mark Loughridge, IBM's chief financial officer, said that midrange Power box sales were up 11 per cent and Power blade sales were up 65 per cent in Q2. (That could be as much a measure of how badly Power6 and Power6+ machines in these classes were selling a year ago as it is a gauge of how well the Power7 machines are selling this year).
As best as I can ascertain for various roadmaps, IBM's plan was to launch the Power 750 and Power 770 machines in April for a May delivery, with the Power 795 (a 256-core behemoth), a Power 720 entry machine, and the Power7 blade servers launching in October. The blades, midrange, and enterprise machines were all moved forward as IBM saw customers slow down their spending on Power gear. And now the high-end Power 795 is being moved forward and the entry Power 720 has bloomed into four different machines with various feeds, speeds, and prices. What I know so far is that the machines will be called the Power 710, 720, 730, and 740 and the top-end box is indeed called the Power 795.
This remaining Power7 iron, which will complete the Power7 rollout excepting the Power7 IH supercomputer node built for the "Blue Waters" supercomputer at the University of Illinois, looks to be coming out on August 17. That is when IBM's top brass in the Power Systems division are hosting two Webcasts (here and there) relating to unspecified Power Systems announcements. El Reg has received independent verification from sources familiar with IBM's plans that the five Power7-based machines mentioned above will debut the day of the Webcasts.
In talking to Wall Street yesterday, Loughridge did not give out the launch date for the remaining Power7 iron, but he did say they were coming out this quarter and like the impending zEnterprise 196 mainframe, would ship to customers in September. When IBM ships a machine, it books its revenue. And you can bet the heat is on the formerly independent Systems and Technology Group, which was yesterday merged into IBM's Software Group, to beat the bushes doing lots of presales now and close lots of deals in September. ®
Sponsored: Minds Mastering Machines - Call for papers now open