The new dimensions don't disappoint either. Volume is reduced by 22 per cent, from 83 x 309 x 258mm to 74 x 269 x 260mm, and weight by 17 per cent from 3.5kg to 2.9kg. It's not quite the 'slimming' achieved with the PS3, which reduced volume by 33 per cent and weight by 36 per cent (from 5kg to 3.2kg), but Sony's lard arse started morbidly obese and gave up Linux and backwards compatibility on its crash diet.

Additional ports extend the console's flexibility
And, yes, before I take a kicking from Sonybois, I realise the PS3 Slim houses its power adaptor, so there's actually very little between the consoles. But, I don't care. I've got both; I love both; and the new Xbox 360 is better looking, despite the dead rat, which, incidentally, is three-quarters the size of the previous monster.
Still, it's what's on the inside that counts, and a glance at the specs and ports highlights major improvements. The Valhalla motherboard is 30 per cent smaller than the Jasper board, thanks primarily to the new 45nm integrated CPU/GPU/eDRAM chip. Also, the integrated 802.11b/g/n Wi-Fi leapfrogs the PS3's 802.11b/g, which won't mean much for online play, but will make the difference when streaming HD content.
Port side, A Toslink S/PDIF optical connector finally adds 5.1 surround sound, and 5 USB ports (2 front and 3 rear) make up for Microsoft's abandonment of the old proprietary memory units. In addition to these and regular Ethernet, HDMI and A/V ports, there's an AUX port ready to connect Kinect (tongue tangler, MS?) and power it, whereas a separate plug is required if using the motion-sensing device with (now) older models.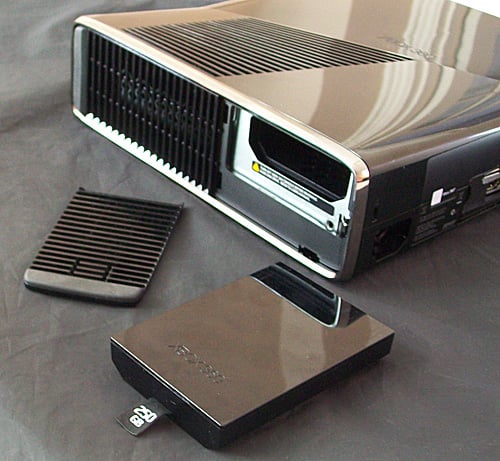 New removable drive form factor
The only contentious introduction is the custom removable HDD (currently 250GB). Located under a flap on the underside of the console (when standing), it might be easily removed and highly portable, but it forces upgraders who want to transfer files to purchase a data migration cable at £14.99, rather than possibly swapping in an older drive.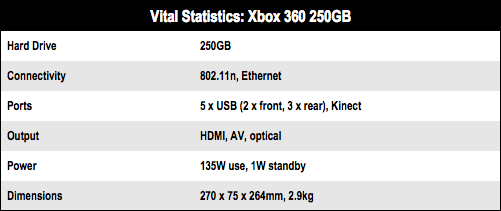 COMMENTS
Nope...
Although the Zune market place for full HD films (you stream if you want rather than download - still at 1080p), full retail games, and shortly music has a great deal more content than the PSN.
Digital download aside, you can buy one a new Xbox and buy a Blu-Ray player plus still have change compared to buying a PS3. (Not to mention the better online content, better wifi and marketplace compared to the PS3)
No.
It doesn't need to do BluRay, and in any case if it DID do BluRay you'd just bitch about the noise it made while doing so.
What, really?
You vigorously shake a device that's spinning a flimsy plastic disc at 500+ RPM and you expect it to magically *not* scratch the disc? Move along, nothing to see here.
Fanbois Alert
You wouldn't happen to have a PS3 sat under your tv would you?
* looks at 360 he's had for two and a half years *
* looks at disc library *
* fails to see any scratched ones *
* wonders why *
oh, yeah, thats because I dont pick my 360 up and shake the bloody thing when it's reading a disc. Same with my cd player, my pc, and my br player. it's very simple.