Of hybrid hard drives and capacity boosts
Coughlin's cogitations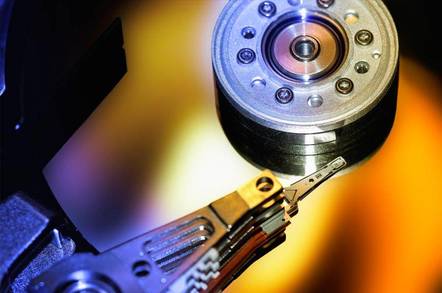 The extra platters and shingled writing future revealed by Xyratex CEO Steve Barber seems to have been influenced by Tom Coughlin of Coughlin Associates and his "Hard Disk Drive Capital Equipment Market and Technology Report".
Coughlin's reports are used by many people in the hard disk drive (HDD) production and buying communities. I thought talking direct to the man himself might be a good idea and so we had an email Q&A. Here it is, with Tom's replies in bold type:
El Reg: How do think hybrid hard drives will develop (flash + spinning disk in one enclosure)? Do they need host software changes? Which markets are they best suited for?
I think there will be more than one path pursued which will combine HDDs and flash memory.

One approach is the one Seagate [Momentus XT] is taking where they put the flash in the PCB [printed circuit board] of the HDD and use it for a non-volatile storage cache. This version differs from what they and other companies offered in 2007 in that it does not depend upon the operating system to perform its intended function.

I have actually been using one of these drives in my laptop for about a week now and I do think that my system is a bit faster as a result although I have not quantified performance.  Other approaches will use separate HDDs on the SATA interface and solid state storage that may be separate SATA (or mSATA) devices or may use other interfaces such as PCIe.

My belief is that this will be a better path for wide-spread adoption of solid state storage in computers where they improve overall system performance with some flash but not enough flash memory to attempt to replace a HDD; the economics of that are just not there.
El Reg: Will single-platter 2.5-inch hard drives be successful? How much cheaper are they to make than standard dual-platter 2.5-inch drives? Could we see hybrid single platter drives, for example in tablets where they could provide near-flash performance at a lower price than flash.
No reason why not, we have had 1-platter 3.5-inch and I think 2.5 inch drives for a while.  By not having a second disk and two heads I think HDD companies will save $10 to $15 on their bill of materials costs and thus could either offer a lower price 2.5-inch straight HDD or perhaps as you suggest a low cost hybrid drive.  The trade-off is lower storage capacity with 2 disk surfaces instead of 4 (about a 2X factor).  An interesting aspect of a single platter 2.5 inch drive is that it could be thinner than a 2-platter disk drive and thus fit better into thin tablets and other products.
Sponsored: Learn how to transform your data into a strategic asset for your business by using the cloud to accelerate innovation with NetApp