Packard Bell Butterfly XS 11.6in notebook
The lepidopterist's laptop?
A quick trip round the edges highlights a small, spring-loaded slider at front-right, which switches the 802.11n wireless on and off. 3G connectivity is built in too.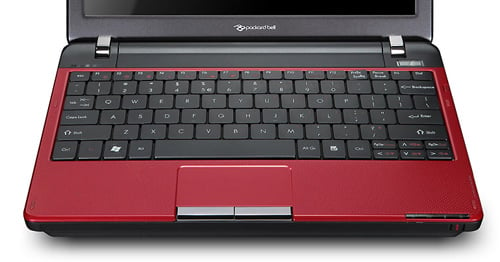 The keyboard is a decent size for such a small machine
There's an HDMI port on the left side, while the 8x multi-format DVD writer is on the right. A nice touch is the eject button, positioned on the top edge of the Butterfly xs case, rather than in the centre of the tray edge.
Inside, there's a 1.3GHz single-core Celeron SU743 processor, which is as much about low power use as it is about breathtaking performance. It's coupled to a GS45 chipset, which includes the GMA 4500M HD graphics accelerator.
There's 2GB of DDR 2 memory which is just enough for Windows 7, and a 250GB hard drive, which these days may be on the low side, though versions up to 640GB are available.
Sound is surprisingly good for a notebook of this size, particularly as there appear to be no speaker grilles on top or underside of the case. The sound appears to come from underneath and, while lacking any appreciable bass like most portables, is clearer than many in the higher frequencies.