Kodak ESP 7
Too many corners cut?
Review Although a late arrival at the inkjet printer ball, Kodak's wealth of photographic and imaging knowledge has helped carve it a clever niche in the market. Its current advertising run, stressing the low cost of running its machines, shows where it's aiming.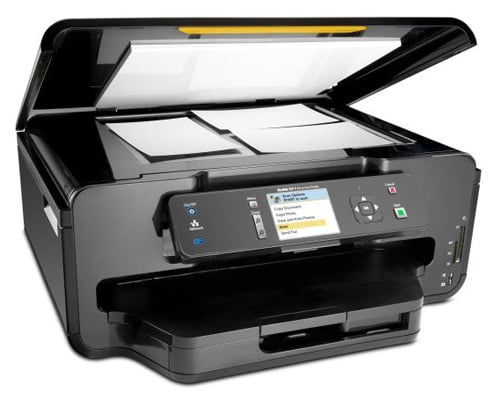 All the machines in the ESP range use the same print engine, which employs one cartridge for black text, and another with CMYK inks and a transparent cover layer. By keeping the cost of these components down, Kodak fulfils its low-cost claims. I calculate a black page at 1.7p and a colour one at 5.5p, both the lowest in their respective categories.
With running costs out of the way, how does the rest of the machine pan out? Its black case, with flat front and hinged control panel, lack a couple of the things most of the other machines have. There's no ADF, so only single-page copies are possible, and there's no fax. The control panel looks a bit empty without a numeric pad, though it does leave plenty of room for the 76mm OLED display.
Duplex print is supported and is relatively quicker than most, but only in comparison with the slow single-sided speeds of 5.0ppm for black and 2.0ppm for colour – the colour figure is the slowest in the group.
Print quality is generally good, with crisp black text, slightly mottled colour graphics and natural, well-coloured photos. This is another noisy printer, with measured peaks of 68dBA, and Kodak takes back some of its low consumables cost by reducing the feature set of the printer.
Verdict
The Kodak delivers running costs, but with no ADF or fax capability, it doesn't stand up so well against those that do. Overall, this makes it a poor-value offering. ®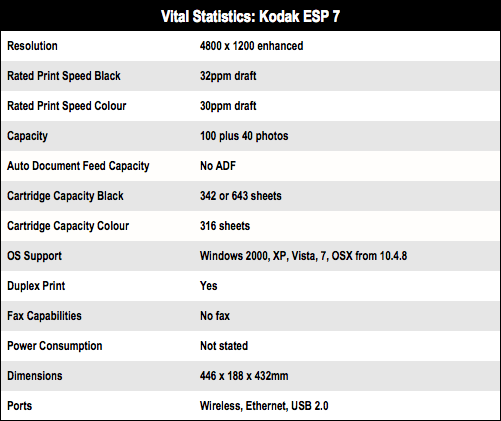 Next: Lexmark Intuition S505
COMMENTS
Not really sure about the quality of this review.
Why worry about cost per page if you are going to ignore the base cost of the printer?
A quick example is Commet were doing the ESP7 (when I bought mine) for under £100.
Your listed price is around £130 for it, which is fine I suppose, but then it gets marked down for them skipping FAX...., yet you comment the HP @ £200 for having fax, yet bugger all inbuit display which is only good for 'buisness' use.
Are we getting a review for a home all in one or a small home buisness? I am sure if I wanted Fax I could of coffed up the extra £70.
As it happens when I got my ESP 7, I also got buy one get one 1/2 price on printer ink, so I picked up a bunch of black and colour inks.
Now I do not think the ESP should of won the award, but there was no mention that I noticed of setup, in particular for wireless and wired. (wireless being a bit of a pain on the ESP, and I know from experiance I had to wait a few months for drivers to be updated to get the network scanning to work right).
However my biggest grip is the size of the drivers and the interface thing Kodak make you use. I would of found this article more intresting if these topics were tackled as well as some comments around features and cost per page.
All in all, there was some text written on the page and some pictures of printers and some 'intresting' charts..... (ok so the information on printer noise might of made me buy a diffrent printer than the ESP7 as by god its a noisy beast, in particular if your sharing a house and its in the hall, or maybe you have kidds asleep).
< The noble handgrenade.