Cloud music: Apple set to clean up
Thanks to fanbois, apparently
Never underestimate the power of an incumbent. And never underestimate the willingness of Apple's user base to try new products bearing the fruit logo.
A poll of Cupertino fanbois by NPD has found a remarkably high willingness to pay for a 'cloud' music service. The researchers extrapolate that up to 15 million fanbois would try a free, Apple ad-supported Spotify clone, and between seven and eight million would pay $10 a month for it.
(That seems to be the sweet spot for subscriptions - although We7 and Spotify both offer an ad-free version for a fiver a month, with the tenner-a-month deal adding mobile access.)
With Google and Microsoft trying to muscle in on this space and startups including Skype founders Rdio and Michael Robertson adding streaming to MP3Tunes, it's getting very crowded. ISPs are keen to offer cloud streaming - this includes would-be freetard folk heroes TalkTalk.
Unfashionable Rhapsody plugged away at this for years, but the success of We7 and Spotify has caused a stampede. The web business, like the music business, moves like a herd.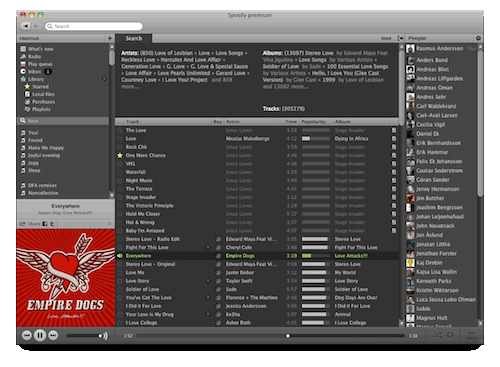 Spotify, of course, is trying to knock iTunes off its perch - it can now swallow your local music library without so much as a burp. And if you don't have an iPod or iPhone, and have zero music to begin with, it could seem pretty attractive.
It continues to mystify me that people who on principle never bought a DRM-encrusted digital download, happily reach for their wallets to carry around Spotify's DRM-encrusted music - locked in a closed, proprietary system. Either they don't give two hoots, or haven't noticed yet. ®
Sponsored: Minds Mastering Machines - Call for papers now open