Intel calls end to server sales drought
Thanks to Google, Facebook, Amazon, MSN...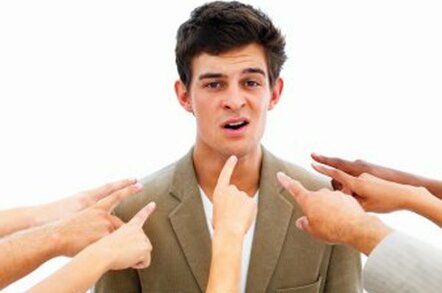 From Intel's point of view, the Meltdown is over, and you're to be credited with its recovery — that is, if you use Google, Facebook, Amazon, or MSN.
"This quarter we benefited from a broad-based return of the enterprise and small-business segments," Intel president and CEO told analysts and reporters during a conference call following the announcement of his company's best quarter ever.
And the star — by far — of that growth was data centers, particularly those in the internet information and social-networking biz. "One example of the surging demand for servers," Otellini said, "is in the IP data center segment, which grew 170 per cent over Q2 of last year."
That 170 per cent bump in Intel's business, he said, was in "internet data center Xeons — those are the ones that go into the Googles, Facebooks, Amazons, MSN, those kinds of things. That stuff is growing like a hose. And as people do more picture serving and more video serving, that's going to continue to grow."
Looking back at the morass from which he sees the industry to be emerging, Otellini said: "Remember, a year ago in servers it was still pretty dark." But they got better — in the second quarter of this year, "the server market segment was particularly strong."
The future looks good to Otellini as well. When asked to predict the growth rate for data centers in the next year to 18 months, he said: "I'm comfortable saying I think we're strong double-digits."
In other words, from Otellini's point of view, the recent explosive growth in internet-centric data centers is no fluke. "Servers will continue to be strong, if I had to guess at this point in time," he said. "I see no reason not to."
And those enterprise and data-center sales are bringing PC sales along with them. When asked about enterprise client sales, he said: "In addition to servers, we also saw companies — including small businesses — refreshing their PCs. Like servers, this too was broad-based.
"We knew for some time that this phenomenon had to happen — that the machines were just costing more to keep on the books than they were worth in terms of out-of-warranty, and repairs, and those kinds of things, and the strong desire to upgrade to Win7.
"And so I think that now that corporations have some breathing room in the economy and in their budgets, you're starting to see that those machines that are four and five years old get refreshed."
And the news is good, Otellini reported, around the world and in all product categories. "Every geography was up above our seasonal norm," he said. "The trends so far are that on a year-on-year basis, everything was up, and in particular on the commercial, or enterprise, side of the business."
It is, of course, a CEO's job to put the best face on his company's performance and prospects when talking with analysts and reporters — but this time around, Otellini had the numbers to back up his claims. ®
Bootnote
One analyst directed a question about Intel's employee benefits to CFO Stacy Smith, who shared the call with Otellini. The questioner, from investment bank Gleacher & Company, expressed concern that "with these numbers that you're putting up, is it safe to assume that your profit-sharing plan is going to be sort of at a record high level?" and expressing his hope that next year such an expenditure might be lessened.</p?
Both Smith and Otellini laughed, and Smith replied: "Well, it'll seem anemic to those of you who work in the financial services industry." He then told the questioner — in polite, financially prudent language — to essentially go stuff himself.
Sponsored: Minds Mastering Machines - Call for papers now open