Fanbois end Judas Phone 'Death Grip' with, um, SIM tape
Or a shave
Some iPhone 4 buyers have solved the handset's infamous "Death Grip" reception problems by taping, cutting, shaving, or re-seating its SIM card.
Considering third-party examinations of the reception issues by the likes of Anandtech and Consumer Reports, such fixes don't quite stand up to logic, and many users claim the fixes don't work on their Judas Phones. But others say they completely solve the reception problems that arise when they grip the phone near its antenna.
After reading posts in the MacRumors forums and a report from iPhone Hacks in which buyers claimed they had ended the Death Grip by tinkering with their SIMs, Terry Hail – a system administrator with New York-based door, window, and hardware outfit BR Johnson – successfully applied a similar fix to his own iPhone 4.
Like many other buyers, Hail says that metal contact on his SIM was touching the outside the metallic SIM tray. "The SIM was stamped funny," he tells The Reg. "The edge of the metal part [of the SIM card] that the phone actually reads was up against the metal SIM holder."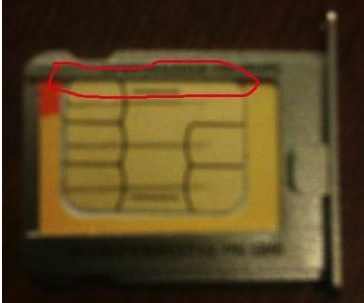 An iPhone 3 SIM (photo courtesy of iPhone Hacks)
According to posts in the MacRumors forums, many users have separated the SIM contact and the SIM holder by simply re-seating the card, cutting or shaving it, or putting electrical tape between the two pieces of metal. Some say that this solves the reception problems, though others say it doesn't.
"I put a little piece of tape on the edge of the SIM, put it back in the holder, and I haven't once had the single drop out, whereas before, if I held the phone in my left hand, the signal would drop off," says Hail.
That said, like so many others, Hail was also able to solve the problem simply by putting a "bumper" case on his phone. Anand Shimpi — who has closely examined the handset's reception problems for Anandtech — recommends this fix.
According to Shimpi's tests — later confirmed by Consumer Reports — it would appear that the reception problems are caused when humans bridge the gap between the device's Bluetooth/WiFi/GPS and UMTS/GSM antennas. And Shimpi doesn't see why taping the SIM would fix things. "I don't have reason to believe that should work," he tells us.
"What we're seeing is a combination of your hand bridging the WiFi and UMTS antennas as well as interference caused by your hand covering the most sensitive part of the cellular antenna in the lower left corner of the phone," Shimpi tells us. "Using one of Apple's bumpers is probably the best bet at this point as it covers the antenna with a non-conductive surface, and moves your hand a little further away from the antenna which results in the iPhone 4 then behaving more like a normal smartphone in terms of signal attenuation while holding it." ®
Sponsored: Minds Mastering Machines - Call for papers now open