Crackdown 2
A short sequel to satisfy shooters?
The wide variety of weapons..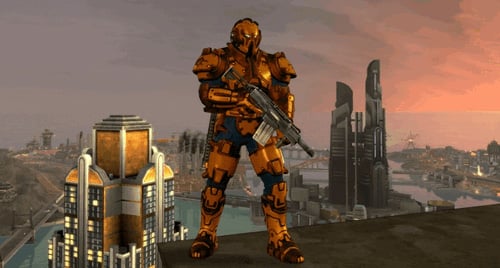 Don't push me, 'cos I'm close to the edge!
But when you do decide to follow the main thread, you'll realise Crackdown 2 is a simple fight for territory, split between Cell strongholds and Freak lairs and outbreaks. Fighting either enemy outside of these set-piece battles does nothing to progress the game. But every kill releases mini orbs that upgrade your other abilities, helping you to drive faster cars or wield more powerful guns and grenades. All of which will come in handy, as set-pieces increase in difficulty.
Although each offers enjoyable combat, there's little to distinguish between Cell and Freak confrontations other than their respective terrain and weapons. Limited AI restricts combat to simple point and eliminate, where only the enemy's superior number provides any real threat. But the wide variety of weapons at least rewards experimentation with some humorous and often outlandish physics, with explosions the real highlight, where vehicles, barrels and gas canisters combine with grenades and rockets to provide some memorable blast-porn.
Played straight through, the game lasts a measly six hours. Allow three players to join you in the new four-player online co-op mode, and the game can end even sooner. But what the game might lose in longevity, co-op more than makes up for in hilarity.
Even though players are free to explore your world as they choose, and able to complete any section for you, it's a helluva lot more fun to stick together, where teamwork and imagination can create some inspired and side-splitting moments, especially when wielding the game's most mischievous weapon, the magnet grenade.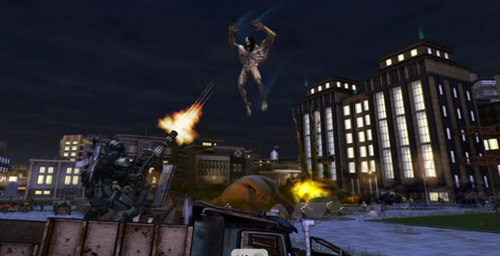 Shootin' up brings you down