Motorola Flipout
Fun phone for Facebookers
This is an Android 2.1 phone, so there are seven of the tiny homescreens to choose from. It's a capacitive touchscreen, so you don't need apply pressure but it won't work with a stylus or through gloves. Compared to some touchscreens, I found this one occasionally unresponsive – occasionally, I had to press twice before the home screen swung into action, though the familiar pinch-to-zoom multi-touch works well.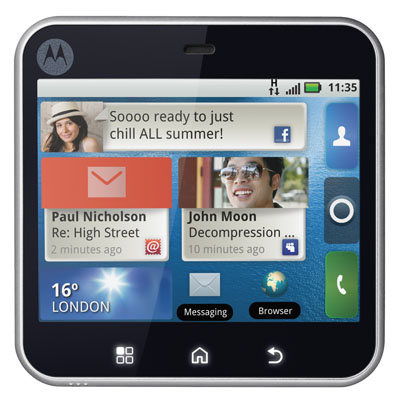 With all the social networking widgets, the small screen gets very busy
Mostly, it's a whizzy handset that handles its tasks fast enough – you're rarely kept waiting for it to catch up. It has a 600MHz processor, so not matching the speeds of the Nexus One - reviewed here - or other phones sporting the 1GHz Qualcomm Snapdragon chip. However, there are fewer pixels to manage on this small screen.
Quite a lot fewer actually – the screen resolution is just 320 x 240, and you can tell. It doesn't look bad, but compared to the HTC Legend or the iPhone 4 with their spectacular hi-res displays, it looks a bit low-rent. Colours are muted and underwhelming.
The Flipout includes MotoBlur, the accomplished social networking aggregator which collects your Tweets, Facebook updates and messages together, putting them into adjacent widgets on screen. Add in a button for your contacts, another to take you to the apps and a shortcut to the dialler, all of which appear on the right edge of every screen, and you'll see that the main home screen is chock-a-block.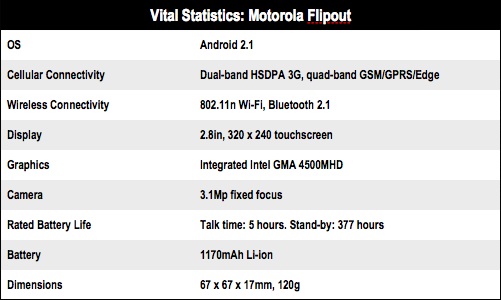 Sponsored: Minds Mastering Machines - Call for papers now open