FLYING CAR, full hover, fairly quiet, offered to US Marines
Nippy VTOL hatchback gets 19 mpg in flight
Goes at 240 mph flat out, or stationary hover
This virtuous design ripple, according to the Tyrannos team, means that they can get away with less than half the empty weight and a third of the thrust area required under normal design assumptions.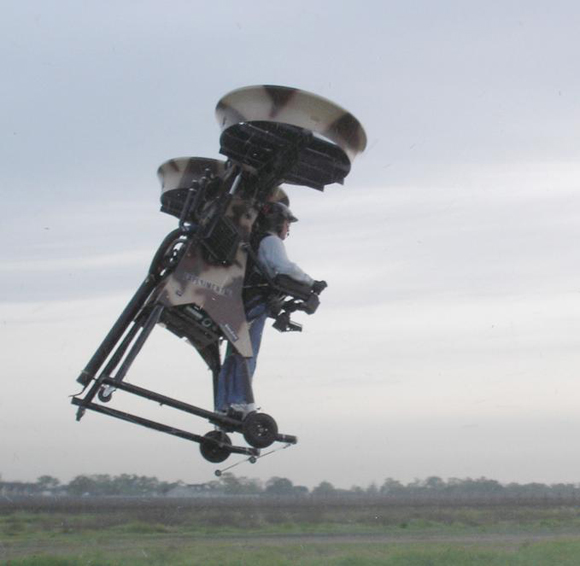 Shroud fans in action. The ring wings are as important as the actual whirlers.
The other main cunningness, according to Logi, is the main body's lightweight carbon structure, which is roughly the size of a normal car without the tail booms and wings, yet weighs half as much while still possessing "the crash strength of a NASCAR racecar able to crash safely at 200+mph".
The snag of having so light a vehicle is that the loaded weight might be anything from 1,900lb to almost double that — 3,750lb — depending upon how many people are aboard and how much fuel and cargo is carried. This is an impossible challenge for a normal vehicle suspension system, which is where Californian electrocar firm ZAP comes in. They will supply a cunning active suspension that's able to deal with road and offroad driving even though the vehicle is at times double its lightest operational weight.
All this, according to Logi's calculations, adds up to a vehicle more than physically able to meet the demands of a true, movie-style flying car.
VTOL flight? Yes. The Tyrannos should be able to lift off straight up from the top of a 10,000-foot mountain with four people and baggage (say 1,000lb) provided its battery pack is fully charged up so as to add its grunt to the engine running at full power. Once off the deck, forward speed will generate lift from the wings, meaning that the engine has spare power for recharging the battery at cruise speeds up to 155 mph.
If required, battery power can be used for sprint flight at up to 240 mph. If there's 180 feet of room for a slow rolling takeoff (a piece of three-lane road would be ideal) the Tyrannos can get airborne or land with another 750lb of stuff on board — there's a hatchback and the rear seats can fold down for hauling cargo or medevac stretchers.
The 16-gallon fuel tank offers a flight range of over 250 miles, or if you need to ferry it a long way it's possible to put a supplementary tank in the back and go up to 1,600 miles with a single operator aboard. (As we'll see, this operator needn't stay awake for most of such a 10 or 11-hour flight.)
On the ground, the Tyrannos can fold its wings back along the tail booms — if necessary going at up to 25 mph while doing so — and switch over to its wheel-mounted electric motors. It can cruise on the road at 55 mph, or accelerate for a short time to 100 mph using battery power to supplement the engine.
With four-wheel drive, active suspension, and nine inches of ground clearance, the designers expect the Tyrannos to offer reasonable offroad performance — particularly when one considers that it would usually be possible to hover over any really tough bits. Alternatively, the option is there to dismount the wings and tail booms as a single unit, leaving a much more compact car for ground driving.
Sponsored: Minds Mastering Machines - Call for papers now open