According to Cowon, file support has remained unchanged, with MP3, WMA, Flac, Ogg, APE, WAV and Audible audio files along with AVI (Xvid/DivX), WMV and ASF video all catered for, it says. So I was rather surprised when I tried AAC audio and H.264 video files and discovered that they played perfectly too. Why Cowon is keeping this a secret is anyone's guess.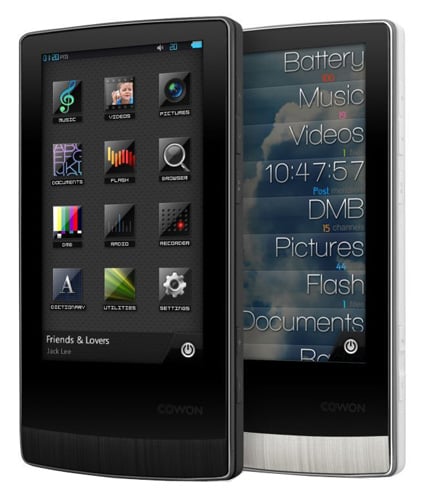 The UI looks good, but what to press and when aren't always clear-cut
Like all Cowon video players, the J3 is tolerant of file resolutions above its native size, in this case up to 640 x 480. It also supports most common subtitle file types - and lets you change their size, colour and sync - and will let you watch your videos in just about any aspect ratio you could wish for.
I'll spare you tales of what video and music files I tested the J3 with, suffice it to say that sound and video quality are both absolutely superb. The 3.3in, 480 x 272, 16m colour OLED screen is an absolute pleasure to look at.
Like the Cowon V5 - reviewed here - the J3 comes with the latest version of Cowon's BBE sound modification suite, which is rapidly becoming my favourite system of its type and caters for every musical taste under the sun. Usefully, the full suite can be accessed directly from both audio and video files.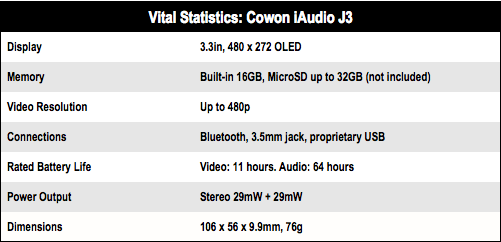 COMMENTS
Cowon and the old guard.....
I only have one problem with any of these media devices / mp3 players. Capacity. I have an old style 60G Creative. Half decent screen, decent format support, decent battery life, decent cable connectivity so I can use it with TV's in hotels and the like...
In fact, since I bought it five years ago, it has been excellent. It is used /every/ day. Literally.
It will only be swapped out when it breaks.
But, if it broke now, I would be stuffed. There are no more 60G players on the market. I don;t particularly want to buy a device and then have extras sd cards laying around, wondering which is which, music, audio books, vids, etc....
I know these flash drive jobbies are nice a quick and quiet and small and light, but where is the volume?
Nah........ until somebody makes something that is at least as good as it was five years ago, then I have to hope my Creative will get me through.
Next week, it will be heading from Brazzaville to Kinshasa!
Re: Apps
"Without apps, PMPs are going nowehere."
Eh, no, I think there are probably enough people out there willing to buy a PMP for its media playing capabilities alone. Not all of us want some fantastically converged jack-of-all-trades device.
Besides, Cowon players were running touchscreen Flash apps before Apple even got rid of its boner for the clickwheel. Ok it's Flash, and we all know the limitations there but really, if I want to do something specific with a Cowon the chances are I'm going to be able to do it. So there's no "App Store"? Well that's ok because last time I didn't want my device manufacturer dictating what I can and cannot do with it and I know I'm not the only one.
Really ? Applications.. ?
Is that really the reason Apple are ahead in sales ?
Not tip top marketing ?
Personally, I've never really understood the 'application fascination' for media players.
You put music* on it and listen to it. Isn't that what a media player is ?
What extra application could you /possibly/ want on a media / music player?
Beats me, really does.
P
* .. and audio books and Ricky Gervais for me!
Gapless is supported
having got the J3 myself a week ago, I can confirm it does indeed support gapless. I have tested using mp3 (LAME encoder) and FLAC. Both played gapless through various albums beautifully.
No gapless?
Seriously?!
It's 2010 guys...