Acer Aspire 1825PT 11.6in touchscreen notebook
At last, a Tablet PC done right?
I'm all in favour of a cloud computing future and all that, but for the present, if I have hard disk troubles, I will probably need a Windows 7 restore disc. Acer doesn't supply one with the 1825PT, and even if it did, how would you use it without a drive? Acer's documentation says that I should make my own restore disc straight away using an external optical drive. Well thanks, that's another £66 I didn't realise I'd have to spend.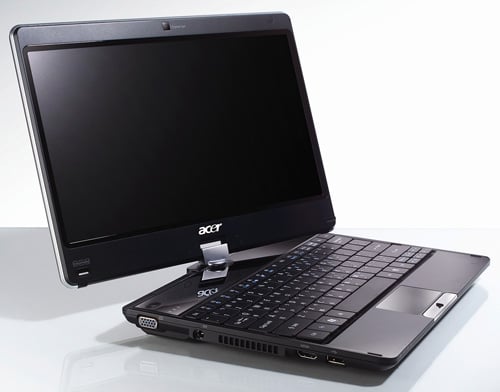 Well built and versatile
I have another complaint. When being used in conventional notebook mode, the Aspire 1825PT tends to rock backwards when you are using touchscreen gestures. You might say this is only to be expected in a lightweight notebook, but it doesn't feel so light after holding it for five minutes in one hand, I can assure you. It weighs as much as two and half iPads.
The weight is mainly due to the big battery. Acer says it should last eight hours of normal use between recharges. In our standard Reg Hardware lab test - showing a 45-minute video on continuous loop - the Aspire 1825PT kept going for five hours ten minutes before switching safely into hibernation.
Of course, the iPad will play video for almost double that, but it's not yet ready to take its place alongside full-size notebooks as a productivity machine. The 1825PT, on the other hand, is.
Verdict
This is a well-built notebook with reasonable performance compared with general PCs but really quite powerful for its diminutive size. The tablet-mode swivel screen is versatile and genuinely useful for portable applications that make use of Windows 7 touchscreen functions. The notebook's lack of a CD/DVD drive is understandable but annoying just the same, so make sure you buy an external USB optical drive if you don't already own one, otherwise you risk losing your installed copy of Windows 7 forever. ®
More Touchscreen Notebook Reviews

Dell
Latitude
XT2 XFR
Samsung
NB30
Toshiba
Satellite
U500-1EX
Dell
Studio 17
Sponsored: Minds Mastering Machines - Call for papers now open

Acer Aspire 1825PT 11.6in touchscreen notebook
Compact Windows 7 touchscreen notebook with swivelling 11.6in display