Buffalo MicroStation SSD
Time to chuck out your laptop's hard drive?
Buffalo bundles Acronis True Image HD to clone your existing hard drive onto your new SSD. It works well, managing to successfully adjust the two partitions on my 250GB Windows 7 Home Premium hard drive - a 5400rpm Toshiba MK2555GSX - downwards to fit into the 128GB SSD Buffalo sent me.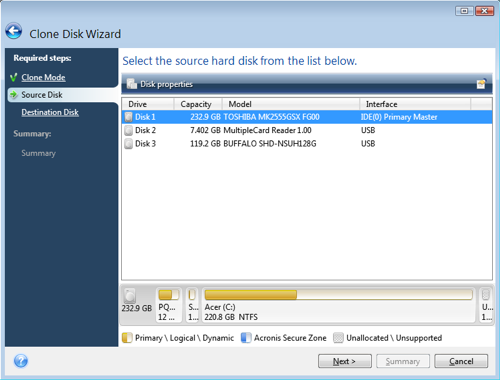 Acronis HD disc cloning software comes bundled
Unfortunately, I couldn't get the software to write to the initially unformatted SSD, but Buffalo's crib sheet warns that this may happen and suggests installing Acronis onto your hard drive rather than run it straight off the DVD, which is what it first tells you to do.
The installation approach was successful, but rather than include a full serial number, you have to first register with Acronis, get a serial number emailed back and then run the cloning tool.
That's too much faff.
Drive cloned and swapped out - not a hard process, even on the ultra-compact 11in Acer Aspire 1810TZ used for the test - I immediately noticed how much quickly booting Windows is: ready to work in 40 seconds, including the time taken to key in the password, compared to just over a minute for the HDD. Installing the BBC's free Doctor Who Adventure Game: Blood of the Cybermen for the nipper took 15 per cent less time on the SSD than the HDD.