Transformers: War for Cybertron
Big, dumb and full of gun!
Multiplayer fragfest..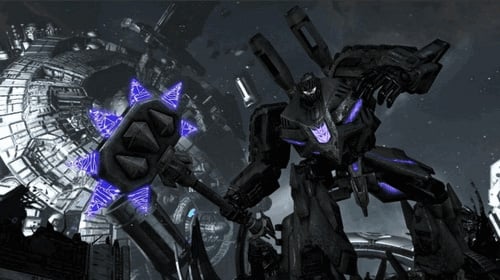 Stop. Hammer time!
Combat is War for Cybertron's only mode of progression. Relentless and frenetic, the game feels more multiplayer fragfest than single player campaign. It's impossible to keep track of objectives with so much going on all the time, despite the excellent dialogue throughout. But this isn't such a concern, as objectives never offer anything more cerebral than press button, shoot glowing object.
Given the campaign has such a multiplayer feel, it's ironic the online offering doesn't live up to expectations. Multiplayer comes in six flavours, with standard Team Deathmatch by far the best. CTF and Bomb Run variations do little to distinguish themselves from each other, but my favourite, Conquest, at least brings a nice degree of strategy in having to capture and hold multiple nodes for victory.
Alternatively, there's a three-player co-op campaign that excels, owing to the game's manageable, bite-sized chapters. And finally, Escalation offers a Horde-style mode, which, at present, only has two maps, and plays more like COD World at War's Nacht der Untoten, where you have to collect kill points to purchase ammo, health, or unlock new areas.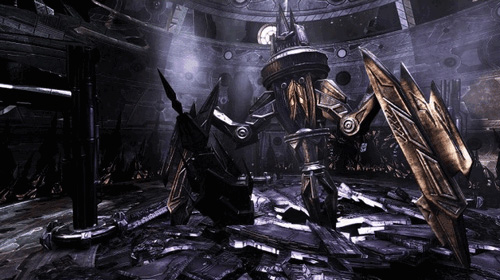 It's only a drill, minor thing really
Verdict
Transformer fans can add at least 10% onto the review score for War for Cybertron. It's head and shoulders above any other Transformers game, with treatment of the narrative and characters its greatest success. For all other gamers, it represents a decent third-person shooter with a solid campaign mode and reasonable online offering.
And for all non gamers who have mistakenly stumbled across this review, perhaps Orson Wells summed up the experience best when talking of his very last on-screen appearance in Transformers: The Movie, when he said:
"The Japanese have funded a full-length animated cartoon about the doings of these toys, which is all bad outer-space stuff. I play a planet. I menace somebody called Something-or-other. Then I'm destroyed. My plan to destroy Whoever-it-is is thwarted and I tear myself apart on the screen."
More Games Reviews

Tiger Woods
PGA Tour 11
Singularity
Prince of
International
Cricket 2010
Darkstar One:
Broken Alliance
Sponsored: RAID: End of an era?
Transformers: War for Cybertron
Best in the saga yet. Still suffers shortcomings but should keep fans satisfied. Available on Xbox 360 (tested), PS3 and PC