exceptional graphics and animations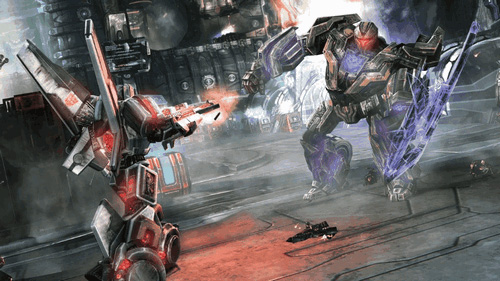 Goodie, baddie gun drops
Gameplay is pretty standard run and gun third-person stuff, which although doesn't offer anything new, has enjoyable combat, excellent controls and, at times, exceptional graphics and animations. Transformers control as you'd expect them to, with precise movement and aiming when in robot form, and speed and agility when transformed. Transformations themselves are fluid, organic, and far swifter than my fudgy fingers could ever manage with the die-cast and plastic of the original toys.
Although you'll never tire of seeing and hearing transformations, better use could have been made of vehicle abilities. Chapters featuring aircraft Transformers are constructed around flight, with sections devoted to aerial acrobatics through tunnels and around space stations. But those featuring vehicles do little to compel transformation. With no clock ticking, sections featuring expressways can be traversed in robot form with no penalty other than slower progress.
Tunnels and space stations also provide the game's graphical highlights. The graphics of the Autobots' capital city of Iacon, while doing a good job of realising a massive, mechanised city on the brink of destruction, show little variation. It remains a beautiful game overall, but one that disappoints by the lack of variety in this main setting.
Variation is limited in gameplay too. Though individual chapters mix things up, the bulk of the game is never elevated beyond run and gun mechanics. It serves up a decent, if unoriginal, cast of enemy types, all of which are copied lock stock from Halo, even down to a tank which is vulnerable at its rear. But whereas it copies Halo's enemies with reasonable success, it is far less successful in copying Halo's AI and pacing.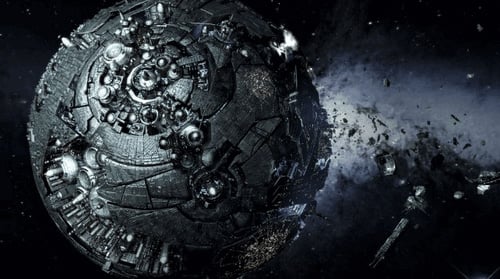 Balls of steel
COMMENTS
When you say best in the saga...
... can I just confirm you played Ocean's classic 8bit adaption?
The best? Surely you mean worst?
I was looking forward to the release of this title, but was incredibly disappointed. The control method, at least on the PS3 version that I bought, is far from intuitive, and the lack of a head up display means that the player frequently has no idea in which direction they are supposed to head in, or why they are taking damage, given that almost all the enemies blend into the background like chameleons!
As Greg J Preece says, the PS2 Armada-inspired game is a great game - and is head and shoulders above this one. I'd even go so far as to say that even the two movie titles were better than this.
After several hours frustration, I decided to trade the game in, and got Batman: Arkham Asylum instead - same engine... MUCH better game!
Not all the Transformers games were rubbish
Go out and find the Transformers game on PS2. No, not the movie tie-in - the one before it. True, it's based on Armada, but it's a really good game.