Transformers: War for Cybertron
Big, dumb and full of gun!
Review At its heart, Transformers: War for Cyberton is a five-minute experience stretched out over 10 hours. That's hardly surprising when you consider the source material – an animated TV series and range of comic books cynically cobbled together to sell a faceless range of Japanese toys.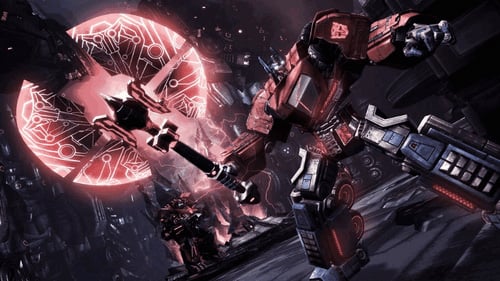 The motherboard of all axes
But, just as the Transformers' universe has matured over 25-years to establish itself well beyond a contrived premise, War for Cybertron is the first adaptation to deliver itself from a dismal record of contrived videogames.
Free of the movie tie-in licence that hampered Revenge of the Fallen, and passed into the more capable hands of the developers at High Moon Studios, War for Cybertron is not only the best Transformers game ever made, but also a pretty decent game in its own right.
True Transformers' fans will be in heaven. A composite of G1 and the Dreamwave continuity comics, the narrative expounds the back story of the war between the Decepticons and Autobots, ultimately leading to their forced exile from Cybertron.
The main campaign mode follows this story across ten hour-long chapters - five for Decepticons and five for Autobots. Although possible to play either faction's campaign first, it's better played in sequence to maintain chronology: following first the Decepticons' mission to poison Cybertron's core with Dark Energon, and ending with the Autobots' mission to repair the damage.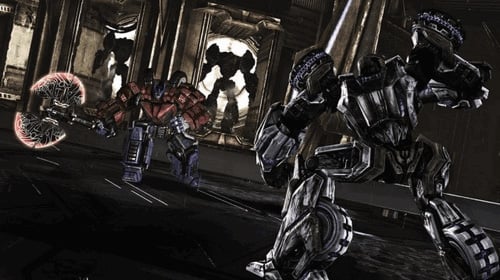 "You don't have the horsepower to beat me!"
COMMENTS
When you say best in the saga...
... can I just confirm you played Ocean's classic 8bit adaption?
The best? Surely you mean worst?
I was looking forward to the release of this title, but was incredibly disappointed. The control method, at least on the PS3 version that I bought, is far from intuitive, and the lack of a head up display means that the player frequently has no idea in which direction they are supposed to head in, or why they are taking damage, given that almost all the enemies blend into the background like chameleons!
As Greg J Preece says, the PS2 Armada-inspired game is a great game - and is head and shoulders above this one. I'd even go so far as to say that even the two movie titles were better than this.
After several hours frustration, I decided to trade the game in, and got Batman: Arkham Asylum instead - same engine... MUCH better game!
Not all the Transformers games were rubbish
Go out and find the Transformers game on PS2. No, not the movie tie-in - the one before it. True, it's based on Armada, but it's a really good game.