IK Multimedia iRig and AmpliTube iPhone app
A vanload of amps, stompboxes, and mics in your pocket
So how does it sound?
You can add up to three simultaneous effects, one after another, so that they build one upon other. You can also save combinations of all your settings into three pages of a dozen presets each — AmpliTube comes with nine preloaded presets to give you ideas, presumably. Presets are a nice feature, but don't expect high-speed, stompbox-stomping, in-tune switcheroos.
Unfortunately, it's next to impossible to give details about the each and every of the myriad combinations — you'll just have to experiment. Also, as Elvis Costello once famously said — and it's not his original line, by the way — "Writing about music is like dancing about architecture — it's a really stupid thing to want to do."
So I won't. Let's just say that after a judicious use of the noise filter, a lot of experimentation, and some high-end Sennheiser cans on my noggin, the chorus controls coupled with my fretless Jazz brought out Jaco Pastorius fantasies, and the octave stompbox — a must-have for bass folk who want to fatten their tone — was fabulous for high-neck lyrical lines on my P-Bass.
On the other end of awesomeness, however, is the wah-wah pedal — as might be expected, it's less than thoroughly realistic in use.
Finally, if you want to play along with a specific tune — or even a looped portion of a tune, for practice's sake — AmpliTube can help. Unfortunately, it makes it a pain in the butt to get a collection of tunes into the app.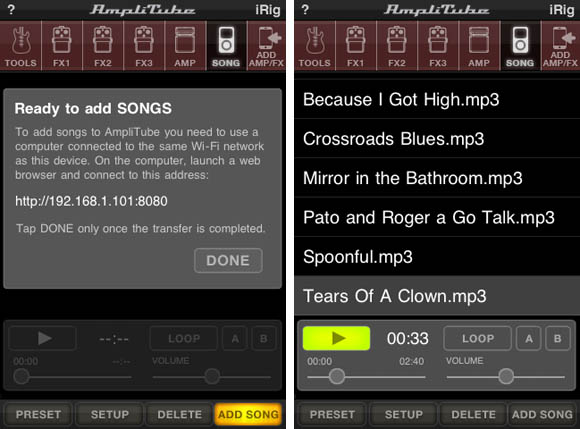 AmpliTube's tune acquisition is a pain in the butt, but the looping ability makes it worth the trouble
You'd think a simple link to your iPhone's iPod app would be doable, but it's not. Okay, then how about a wireless connection to your Mac or PC's iTunes collection? Well, AmpliTube takes you halfway there: you can, indeed, hook up to your computer wirelessly, but you can't connect to iTunes — you have to grab the files by digging into the file system. Oh, and when you do find an album that you want, you have to download the files one by one — no batch-downloading allowed.
After you have moved songs into the AmpliTube app, they need to be converted before AmpliTube can play them — a one-time only chore, but a chore nonetheless. And don't, of course, even think of trying to play a DRM-protected file in Amplitube. No can do. Personally, that'll keep me from learning to nail Bootsy's bass line in "Give Up the Funk (Tear the Roof Off the Sucker)", since I bought it from the iTunes store back in DRM days.
But, really, these are minor quibbles — and the ability to loop that insanely sweet fretless bit at about 2:45 into Paul Simon's "Diamonds on the Soles of Her Shoes" over and over until it's burned into my muscle memory is well worth the hassle.
As are so many other things about the AmpliTube iRig combo. If it's this much fun for a simple bass player, think of what it could do in the competent hands of an accomplished guitarist wielding a serious axe. After all, what do you call someone who hangs out with musicians? A bass player. ®