IK Multimedia iRig and AmpliTube iPhone app
A vanload of amps, stompboxes, and mics in your pocket
Plug it in, get it on
Setup is straightforward. Plug your axe-of-choice into the iRig, plug the iRig into your iPhone, and launch your chosen version of AmpliTube. Tap the Setup button and check out your options. If you choose to max out all your effects and you're running on an older Apple device, you may have to switch to Low rather than Ultra-Low latency. I ran into no noticeable problems with my iPhone 3GS, however.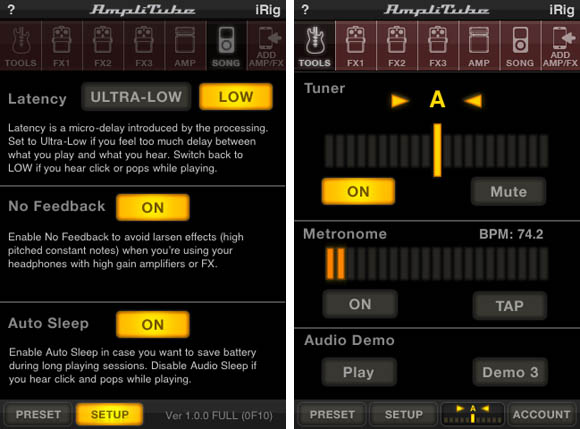 Latency is surprisingly non-existent for such a relatively low-power platform as an iPhone
Tap Tools, and you'll find a tuner, a metronome, and a set of demos. Personally, I find my ear superior to electronic tuners such as this one, though in a loud gig situation they can be invaluable. The metronome is a nice touch due to its BPM precision, but since the eight audio demos (cycle through them by tapping the right-hand button) include no settings information, they're neither instructive nor particularly entertaining. Besides, there are none played by either bass players or bassists.
Before you dig into AmpliTubes effects and amp/cabinet/microphone choices, familiarize yourself with the app's two-layer help system. By tapping the question-mark icon, you're led into the in-app help system. Flick left to access each page, which takes you through the top-level features of the app.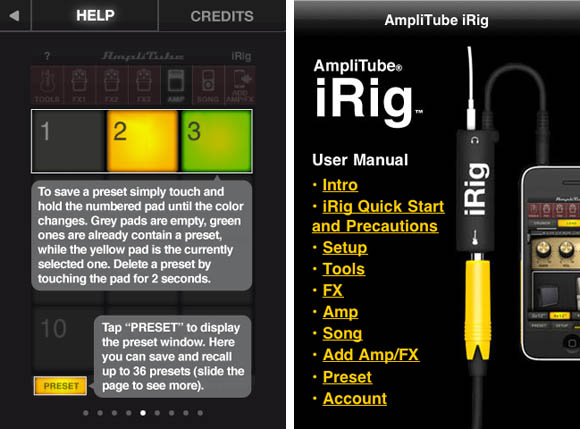 The in-app help system can help you decode Presets, and for more info there's a link to an online User Manual
For a deeper dive into Help, the last of the help pages contains — well, is, actually — a link to AmpliTube's online User Manual, which is of particular help in decoding each of the stompbox effects, their controls, and their best practices. It also provides details about each amp model, its characteristics, and what real-world amp it was based on — the bass amp, for example, was modeled after an Ampeg SVT.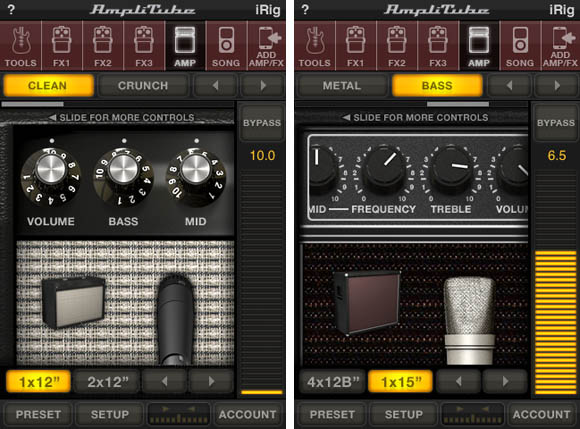 If you've spent any time around amps, you'll recognize the knobs in AmpliTube's gorgeous graphics
Each amp's battery of dials — scroll sideways for more — can be controlled either by tapping the dial then sliding your finger up and down, or tapping then sliding your fingertip up and down in the far-right control surface.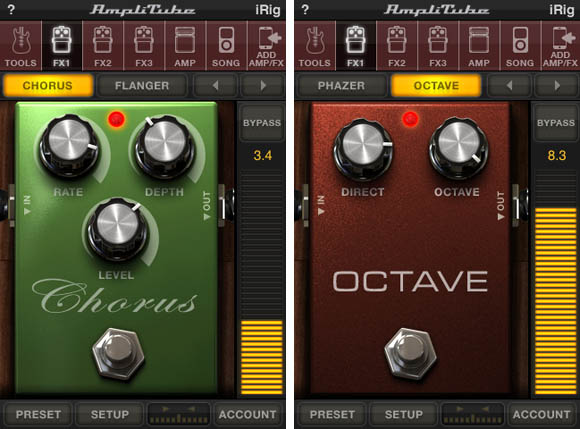 In-app purchases of more effects are coming, but bass-basics such as chorus and octave are here today
After you've chosen you app and cabinet, and have chosen between a dynamic and condenser microphone, it's time to dig into AmpliTube's effects collection. The full set contains, as mentioned above, 11 effects: delay, fuzz, distortion, overdrive, wah-wah pedal, envelope filter, chorus, flanger, phaser, octave, and a noise filter, each with their own controls that you adjust as you did the amp controls. To fire up a stompbox, tap its virtual foot-switch. To skip an effect, tap Bypass.