Sagemcom RTI90-320 Freeview+ HD recorder
Rare breed
Review Since Freeview HD hit the terrestrial airwaves late last year a decent selection of standalone receivers and TVs has gradually become available but only now are retailers starting to shift the first DVRs. The not so snappily-named RTI90-320 T2 HD is the first Freeview HD product from Sagemcom, formerly part of French telecommunications mega-brand Sagem.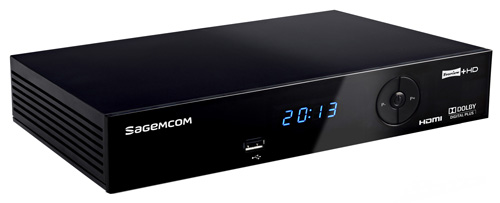 Sagemcom's RTI90-320: a 500GB version is also available
Selling for a tidy sum, this 320GB model can store 180 hours of HD programming, whilst a step-up 500GB version, the RTI90-500 T2 HD, will soon be available for around £300. Pricey these boxes may be, but we're still sailing firmly in early adopter waters so there's little chance of prices falling for a while yet. Nor, sadly, can you expect to find much in the way of bonus features beyond standard DVR capability.
The spec offers no surprises with one-touch recording, pause and rewind for live TV, an 8-day EPG with series link, favourite channel lists, DVB subtitles and Teletext. Connectivity is basic too with one HDMI 1.3 output, one Scart, an electrical digital audio output, stereo audio phonos, an RF loopthrough, a front-mounted USB and an Ethernet port.
The latter two are for future use only, which means no multi-media or networking functionality at present, but BBC iPlayer compatibility seems a safe bet at some point. Aesthetically, the box is something of a surprise to anyone familiar with Sagem's raft of previous Freeview and Freesat kit. Out goes the dour grey squat design, in comes the compact shiny black rectangular look favoured on the Freeview catwalk.
Build quality isn't of the highest order but the fascia is pleasant enough; there are buttons for changing channels and powering up the box, that idle USB socket and a 4-digit 7-segment LED-lit display. Power comes from an external 12V supply, so no cooling fan is needed.

External makeover, but its internal navigation is where it needs it
Installation is straightforward – you make the usual language, aspect and video output (Scart or HDMI with resolution setting up to 1080p) and audio choices, and the box insists that you enter a parental code before conducting a channel search.
Sponsored: Minds Mastering Machines - Call for papers now open