Apple iPad 3G 32GB
Wandering star
Unlike a dedicated satnav, though, the iPad's GPS won't pin you to the nearest road. Although it's just as accurate as any other satnav, it appears less so because your apparent position occasionally seems to wander off the route; conventional satnavs always make sure you're on a road, where possible.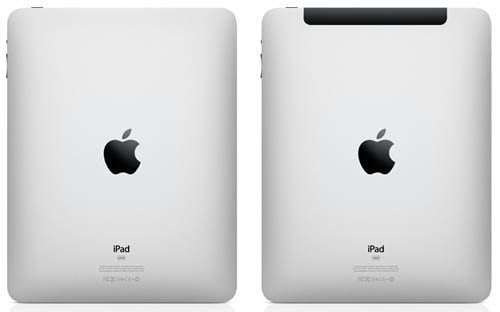 3G iPad on the right with its tell-tale antenna housing in black
The GPS unit is fast to find your location, faster in most cases than a dedicated TomTom or Garmin unit. With the addition of one of the many satnav apps downloadable from the App Store, it can act as a fully-fledged device that has the advantage of larger maps than any of the dedicated devices.
Battery life remains robust, even with 3G turned on. Of course, you're not accessing 3G constantly, but watching an hour of YouTube seemed to use about 10 per cent, which is good.
Verdict
The iPad 3G has a reasonable touchscreen keyboard – certainly one that's much easier to use than that on the iPhone, for all but the shortest messages – and the ability to remain in e-mail and Twitter contact, wherever you are, is, for some, a major consideration. If you bought a WiFi-only iPad and, in six months' time, someone offered you 3G functionality for an extra £100, the chances are you'd jump at it. Best to make that choice now, while the deal is still on the table. ®
More Tablet Reviews...

Apple iPad
16GB Wi-Fi only
Dell
Streak
Archos 9
Amazon
Kindle DX
Sponsored: RAID: End of an era?

Apple iPad 3G 32GB
Touchscreen tablet with 3G functionality that keeps you connected where the Wi-Fi doesn't roam
Price:
16GB (£529), 32GB (£599), 64GB (£699) RRP