Korg NanoKey MIDI controller
Compact keyboard of the musical variety
Review The Korg NanoKey is one of the smallest musical keyboards you can buy. At just 320 x 83 x 14mm, it's almost exactly the same width as a 13in laptop. Small enough to slip into a briefcase or laptop bag, the tiny form factor nonetheless features a two-octave, 25-note keyboard.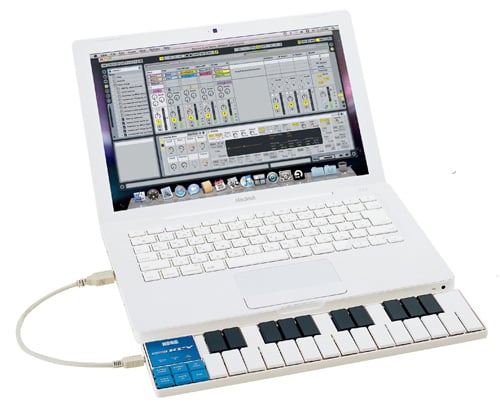 Korg's NanoKey: worth making a note of?
Because of the small height, the keys don't in any way resemble real piano keys: they're more like the keys on a typical laptop. But they're velocity sensitive, which means the harder you hit them, the louder the note produced.
It's quite possible to play with both hands on the polyphonic keyboard; in practice, though, users are more likely to play a single melody or chord line at a time, using the keyboard as an input device for a desktop or laptop based sequencing program.
Available in either black or white, the keyboard has a branded Korg logo that lights up when it's plugged into a USB socket. To the side of the piano keyboard are six further keys that provide additional functionality: a CC Mode button that allows it to operate as a MIDI controller, a Modulation button, and Pitch Up/Pitch Down controls that depend on the controlling software.

Also available in black
Most useful of all are the Octave Up and Octave Down buttons, which feature LEDs that indicate the degree of shift: a green light for one octave change, an orange light for two, a red light for three. This gives at-a-glance feedback that's a truly invaluable innovation.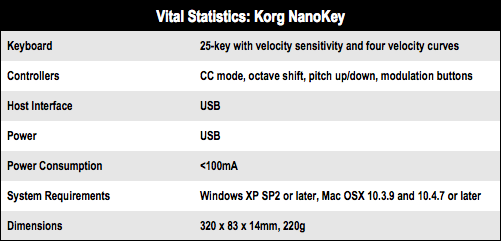 COMMENTS
I found the key action to be horrible.
Think about the cheapest, nastiest, clickiest laptop keys you've ever used: that's what it feels like. Also, in the push to get it down to the least volume, Korg also saddled it with very little travel in the keys, the overall effect being that it's extremely difficult to modulate your velocity as you play.
This was a deal-breaker for me, so I bought an Akai LPK25 for a fiver more. This has the same 25 keys and similar programmability within an only fractionally larger footprint but, crucially, it's twice as thick, all of which has gone into the key travel. In addition the keys themselves are much more substantial efforts with a lovely smooth action.
LPK25
Awful product, you may as well play the laptop keyboard itself.
Another vote for the Akai LPK25. Mine goes everywhere with me.
Utter bobbins.
I had three(!) in a row, and two Korg NanoPads too. They are singularly the worst quality goods I've ever had the misfortune to get replacements and then refunds on.
Dire build quality. Sketchy response - two of the three nano keys had completely dead keys, and the C# and D# on the third were hit and miss. I really wanted these to work - they looked great in pics - but in the flesh they look and feel incredibly cheap; and they just didn't do the job they were supposed to. Yes, you can argue I got faulty units - but five of them? In a row? Hmm.
I wonder how much an 80% review costs you?
80%???
I paid £35 for mine a year ago and couldn't WAIT to get rid of it, it's a rip-off even at that price.
The keys are like laptop shift keys, you can't play hardly worth a damn with ONE hand, let alone two.
If you thought that was worth 80%, you should genuinely check out the AKAI LPK25 - for £45 (£5 less than you quote the Korg), it has proper (if mini-scale) keys, and will blow your mind in how much better it works.
Korg's mixer-style nan-controller and drum-pad units are both wonderful and worth the money but they dropped the ball so utterly in making the NanoKey out of laptop shift-keys (and thus barely usable) that I'm shocked anyone who's tried to write a song with it for more than five minutes could rate it 80%.
Thank you El Reg for reviewing a product that's been out for over a year.
Next week: the Pentium 4 processor - time to upgrade from PIII?