Sony Vaio L13 touchscreen PC
A touch of class?
In principle, you can move an all-in-one around the house and the Vaio L13 has the convenience of 802.11n wireless and is fairly compact. Yet it weighs in at 12.5kg, which makes it awkward to lug around the house other than once in a while. As I see it the Vaio L13 fills a gaping hole in the middle of the Apple iMac range, bookended by the £969 21.5in model at one end and the 27in giant that costs £1378 at the other.
Benchmark Tests
PCMark Vantage Results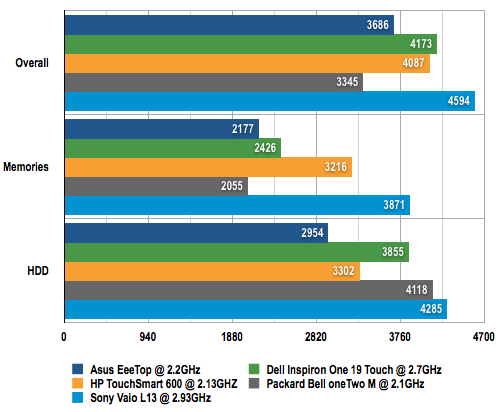 Longer bars are better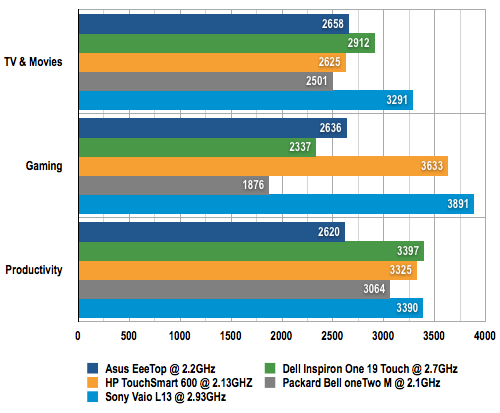 Longer bars are better
From a technical stance, the Vaio L13 and the small iMac have a certain amount in common as they both use a Core 2 Duo CPU with Nvidia graphics and they both look as pretty as a picture. When you get up close to the Sony you'll see that some of the 'aluminium' is actually painted plastic but it still looks lovely. The wireless keyboard also complements the looks of the Vaio L13 but I feel that Sony took the styling a touch too far with the wireless mouse. It uses an ambidextrous design that looks ungainly and also feels uncomfortable in the hand.
Above the screen there are three tiny LEDS – green for wireless, amber for HDD and green for power. The two green lights are constant while the amber light blinks when the hard drive is working, which is most of the time you are in front of the screen, and gets damned annoying. In the centre of the top bezel there is a 0.3Mp webcam. On the left side of the screen there are five USB 2.0 ports and an S400 i.link (aka Firewire) port for connecting your digital camcorder or external drive, with the DVD drive on the right.
The cooling fan speeds up and slows down noticeably when the graphics and CPU are working hard and it is too noisy at the best of times. Running even the simplest application such as Microsoft Surface Globe increases the power draw from 70W at idle to 80W with a maximum of 100W when the Vaio L13 is under severe duress.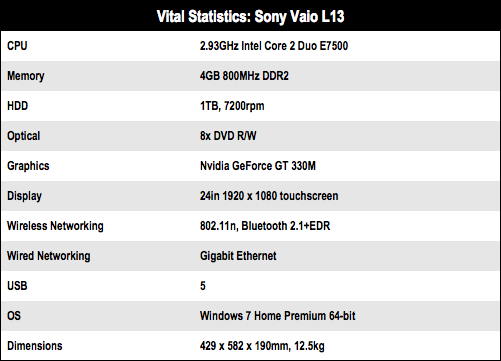 Sponsored: Minds Mastering Machines - Call for papers now open