Finn finishes Finnish mini-digger odyssey
Crowds cheer 5-day-late, 2mph arrival at Finnish line
A plucky Finn's quest to be the first man to traverse much of the length of Finland riding a small imported Chinese mechanical digger has ended in success.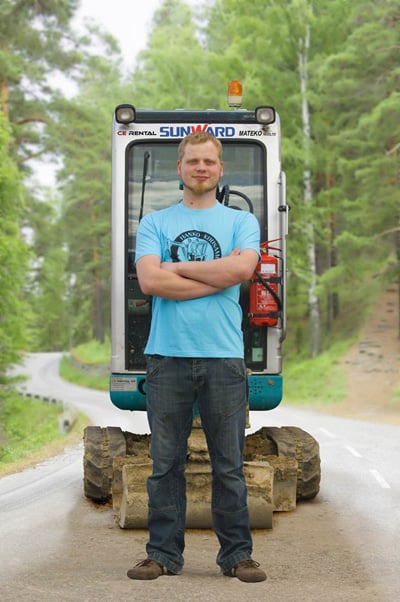 An inspiration to us all.
To rapturous applause from crowds of fans, freelance excavator repairman and salesman Jukka Mutanen chugged very slowly into the northern Finnish town of Kuusamo yesterday, completing an epic 942-kilometre journey lasting 29 days.
Mutanen made the journey at average road speeds of around 2mph, though his SWE17B one-man digger is capable of 2.8mph going flat out.
The enterprise was sponsored by the machine's manufacturers, the Hunan Sunward Intelligent Machinery Company Ltd of the Changsha Economic and Technological Development Zone in China, and Sunward's Finnish distributor.
The determined digger-jockey's quest electrified his fellow Finns and received heavy play in Finnish media. As of today the effort boasted over 100,000 Facebook fans.
Mutanen had hoped to reach Kuusamo in time for the midsummer celebrations on 24 June, but in the event the trusty SWE17B - not, after all, designed or intended for long haul use - proved incapable of this and he arrived five days late. Nonetheless, we gather that Mutanen and many of his admirers held a major party in Kuusamo last night. ®
Sponsored: Are DLP and DTP still an issue?