Lenovo sets back smartbook launch
Xmas outing for improved hardware?
Lenovo's Skylight ARM-based netbook may arrive rather later than expected - but with a better processor.
Moles in Taiwan suggest that the Skylight will be upgraded from single-core 1GHz processor to a dual-core part running at 1.5GHz, DigiTimes reports, both from Qualcomm's Snapdragon line.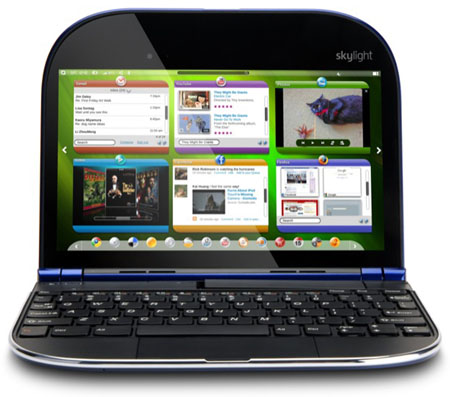 Lenovo introduced Skylight at the Consumer Electronics Show (CES) in January this year. At the time, the very thin machine was due to debut in April. When April came around and the Skylight hadn't appeared, it was claimed the machine will instead go on sale in July.
DigiTimes' moles suggest it won't now arrive until the Christmas sales season, but at least will have a faster processor to show for it, something that will help it compete more effectively with the likes of the iPad - already eating into netbook sales - and HP's anticipated WebOS-based tablet.

As it stands, the 253 x 201 x 17mm, 900g Skylight sports a 10in, 1280 x 720 display; an integrated yet removable 4GB USB Flash drive in addition to 8GB of built-in Flash and a Micro SD slot; and Wi-Fi and 3G connectivity.
Originally said to run a custom Linux distro, it now appears that Skylight with ship with Android on board. ®
COMMENTS
But...
Will it run RISC OS?
RISC OS
It can, if someone makes a port. It is no simple matter, though, as you would need to write drivers for all the hardware. And you would not exploit the hardware graphics acceleration unless you did even more work to rewrite the graphics routines. In practice, I would say that it is doubtful that it ever will.
In any case, it looks O.K. and has a decent screen resolution (which many other smartbooks, alas, do not). I'm in no hurry to buy a new laptop/netbook/smartbook right now, so I can wait yet another five months. There is a risk, though, that a lot of potential buyers will have bought an iPad or a Wintel netbook before then, so it might miss the boat. Especially if it isn't priced right.