So, replacing the SureType approach with a standard numeric keypad doesn't really make much sense to me, nor, I suspect, most other phone buffs. Might the abandonment of SureType – and its perceived learning curve – persuade casual users who've been put off by the BlackBerry's 'difference' in the past, yet covet RIM's facility with email? Maybe. At least RIM is working the options.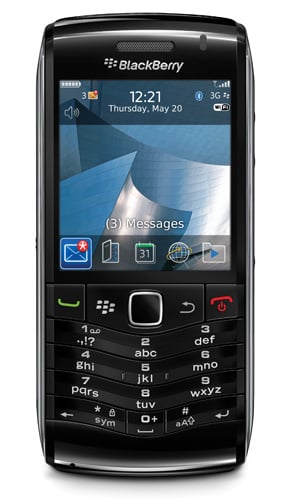 Will offering a conventional keypad be a fruitless exercise?
In action though, the keypad works perfectly well, with nicely responsive keys, and the wavy layout actually helps a little with two-thumbed typing. The fact is though, it's just not as quick as a Qwerty keyboard or even the SureType keyboard on previous Blackberry Pearls, such as the 8120.
Like the most recent Curve 8520, the Pearl 3G runs on the latest v5 of the Blackberry operating system, backed by an improved processor, and very nice it is too, with its easy-to-navigate icon-based user interface. It's not as flashy perhaps as Android's widget-based layout, but its supremely practical and easy to navigate. The push email system is still just about as good as it gets, and while many are approaching it in terms of usability these days, arguably, RIM handsets still have the edge in terms of security and reliability.
The browser is efficient enough – speedy whether you're connected by Wi-Fi (now upgraded to 802.11n) or 3G network link – with scanning of pages made easy by the nippy trackpad which only requires a single press to zoom. But with a screen measuring an extremely snug 2.2in, browsing never gets to be much fun. There's no Flash support either, but then with a screen this size, you're unlikely to be keen to watch a lot of streaming video on it.
The Pearl 3G can play MPEG4, H.263, H.264 and WMV3 video formats but, like web browsing, actually viewing this content can be a bit of a chore. While the 360 x 400-pixel screen is sharp and clear, there's no option to adjust the resolution and, as a consequence, widescreen film trailers and the like appear in a squint-inducing dwarf letterbox format.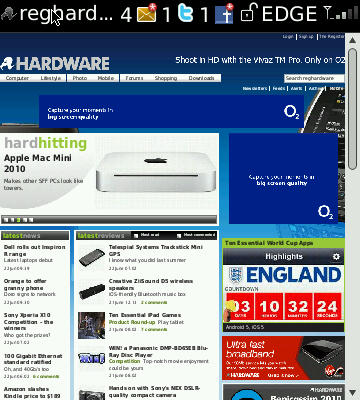 Browsing is fairly swift, but with such a small screen it isn't particularly satisfying
The music player benefits from having the transport controls on the top, so you can organise your tunes while the phone is in your pocket. Unfortunately, the sound tends to be a bit muddy and on the boomy side, despite the best efforts of an equaliser with 12 heavy-handed presets. It will play MP3, eAAC+, WMA, Flac and Ogg Vorbis formats and there's a 2GB micro SD card included as standard for storing your media.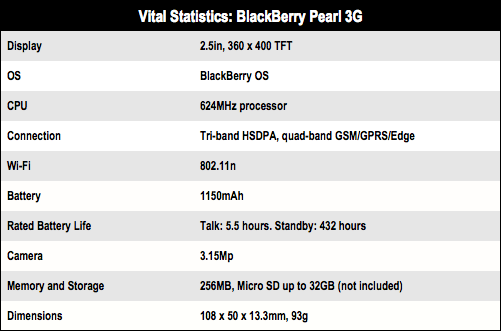 COMMENTS
Yes!
In addition to the reason you mentioned, when you're sitting with your phone/MP3 player on a desk, it's also preferable to have the headphone socket on the bottom.
It's something that Apple have got consistently right with their iPod Touch line, and consistently wrong with everything else in their non-Mac lineup.
It's not a religion..
Most people are used to the socket on top, when a call comes through it is natural to grip the top of the phone twixt thumb and finger allowing the body to come to rest in the palm of your hand. It's not a problem, most people work quite happily that way. Except those who use the latest Apple product of course, then the signal drops because 'you are holding it wrong'.
Audio Ports/controls
"The music player benefits from having the transport controls on the top,"
I've been meaning to mention this for a while but, despite CONSTANTLY telling us the headphone socket etc should ALWAYS be at the top and that anyone who designs a phone otherwise should be cast into the fiery depths of Vesuvius you are just wrong. It is very simple. You should always put your phone in your pocket upside down.
Don't believe me? Stand up. Put your phone in your pocket upside down. Take it out and hold it up to your face as if looking to see who is calling. Voilla! The phone is the correct way up. If you now try it the other way around, you will either need to spin the phone (and risk dropping it) or contort your wrist in order to read the display.
It isn't magic. It isn't rocket science. So stop telling the world that phones with ports on the bottom are wrong. They aren't. YOU ARE! And now everyone is doing as you say YOU have broken the world. Shame on you Reg!