HTC posts Android 2.1 update for Hero phone
Finally...
HTC has posted the long-awaited - and much promised - Android 2.1 update for its Hero smartphone.
Early online reactions suggest the installation process is neither as smooth nor as quick as it might be, but once past the system hangs - real and seemingly so - your Hero will emerge with the latest version of Google's OS.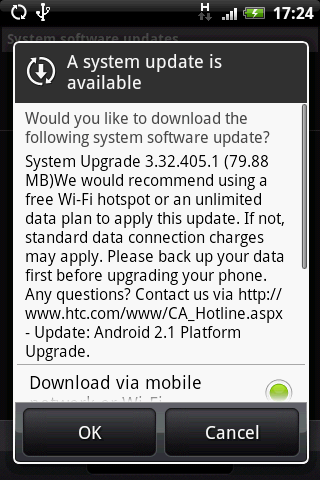 At least until Android 2.2 becomes ready for primetime.
How long will it take HTC to release an update for that, we wonder? The Hero's Android 2 update was first promised for February.
In the meantime, there's 2.1 - which also works on Orange-tied Heroes, online forum posters have claimed.
More nerdy details from XDA Forum, here. ®
COMMENTS
Try this...
Go into the camera app and grab the tab at the top of the screen. This reveals a menu where you can select Settings / Shutter Sound - set this to off ;-)
The camera is much improved but is still a bit laggy so I find the shutter sound useful as it tells me when I can move again. I used to find that you had to hold the phone impossibly still not to take a blurry picture but this seems to have improved, however I haven't been able to check this properly yet.
I've sold my soul to Google...
...so all my contacts and calendar data are in the cloud. However, there's a free CSV export tool on the marketplace if you have handset based contacts.
The good news is that the update didn't wipe any of my data. Vids, music and database files all stayed intact. All the settings for TwitFace, email, WiFi, etc were preserved too. The only thing that was lost was my screen layout, that reverted to the default.
Some notification settings got borked, but didn't take more than 5 mins to sort that out.
This is a Title.
Start: Camera
Press: Menu
Select: Settings (cogs icon)
Scroll down to: Shutter Sound (third from Bottom)
Uncheck the box!
Simples.
i sit corrected
had a look and yes there is. it used to be in the general settings. now it is in the camera app settings. thanks!
woot!
@moylan
there is an option to turn the shutter sound off, works fine and silently for me