Singularity
Shootin' through spacetime
Singularity doesn't take itself seriously...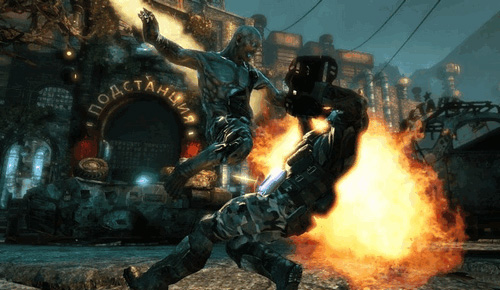 That's one hot slapper
If the mention of mutants alone doesn't get your trigger finger itching, the Russians have returned with Spetsnatz forces in a bid to reclaim the technology. Cue one of gaming's most convoluted and downright silly adventures to date (hardly surprising given Raven's last game was the 2009 re-imagining of Wolfenstein).
It's a good thing, then, that Singularity doesn't take itself seriously. Whether in the risibly hammy dialogue of NPCs, slo-mo sniping and boss weak spots, or in the pure deus ex machina of combat and puzzles, the game reaches a new level of cliché for the sci-fi FPS genre.
Fortunately, the variety of gameplay elevates Singularity from mere pastiche. Set pieces are rarely repeated, so you're never quite sure what's around the next corner. One minute you'll be fighting a hundred metre-tall monster aboard a train, and the next you'll be scrambling around for oxygen canisters to refill your gas mask in toxic underground tunnels. And although you've seen the game's weapons and abilities in different guises elsewhere, Singularity combines their use to to present varied combat and puzzle solving.
The ability to affect time provides the most novel mechanic. Wielding the game's Time Manipulation Device (TMD) allows you to alter the temporal state of objects and enemies. When puzzle solving, it might mean rebuilding a stairway that has collapsed with age, or rejuvenating a rust-flattened metal case to jack open a rolling door. And in combat it might mean pulling a mutant out of phase, where it's invulnerable, and into the present time, or ageing an enemy soldier until his flesh disintegrates into dust and his skeleton falls to the floor.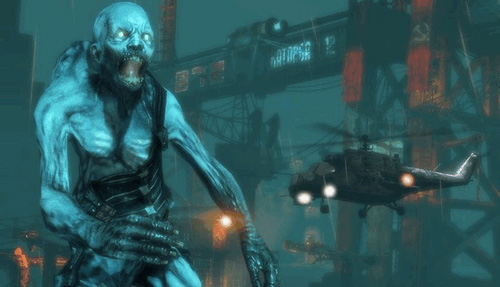 Hell, a copter